4628 S. Ward Way, Morrison, Colorado 80465
Phone: 303-978-0940 and 303-719-0950
E-mail: lifereef@lifereef.com

---

HomeAll Products Price ListOrderingContactCatalog RequestSump/System SCHEDULE

ATO/Reservoirs/ContainersCalcium ReactorsMedia ReactorsCustom ShowcaseTestimonialsGarage SaleWarranty

Berlin System/SumpsNano System/SumpsPrefilter/OverflowsProtein SkimmersRefugium/LifeReefugiumsWet/Dry Trickle Filters

---
---
Customer Testimonials
I receive emails daily from satisfied Lifereef customers. Many have replaced a product, or "system", they were unhappy with, only to wish they had purchased the Lifereef product first. Others purchased a Lifereef product first because of the comments here, positive posts on any bulletin board, no negative remarks or comments on bulletin boards, or have followed Lifereef products since 1984 and know my commitment to quality, design, your specific needs, and ultimately your satisfaction and success with your hobby.
---
---
02/22/2018 VERTEX needle-wheel and costly protein skimmer vs a Lifereef true Venturi protein skimmer
Vertex Omega 130 was the last protein I used. As I indicated in my earlier emails, I've been unable to use it because the pinwheel kept breaking. Their pinwheel has some ceramic components that make up the shaft of the pinwheel and unfortunately these ceramic parts begin to get "out of round" and then the pinwheel just locks up within the pump cavity. I was going to go back and set up my old ETSS 600 skimmer BUT I wanted to try out these new types of skimmers instead, what a mistake that was. Luckily for me I only spent $219 on it so now I'm now left with a very nice acrylic shell of a skimmer. As for the ETSS, I've had that ETSS skimmer for close to 20 years and I've always like it because I was able to use my Iwaki pumps on it and it bubbled out a ton of crude through the years. Then earlier this month while thumbing through a copy of Coral, I saw your ad and said "hey, I still have his sump for almost 20 years, lets add his skimmer as well". And here we are almost 20 years later! So this week I'll be setting up a new skimmer and ... well I'm not sure what the hell I'm going to do with the Vertex because I'm definitely not buying another pinwheel pump for it!
---
11/23/14 SVS3-24 in-sump protein skimmer
Jeff, I want to express my satisfaction with your work. I've spent countless of money on skimmers and other filtration to control my tank of nitrates. Your skimmer is by far the best that I've ever had. It's only been a week but the stuff that's getting skimmed is ridiculous. There's no fiddling. There's no tinkering. I am sold on your product and will continue looking for things on your site to add to my system. My tank and I appreciate your work.
---
03/29/14
SVS2-24 Skimmer Review using Jebao DC pump: SVS2-24 using Jebao DC water pump (YouTube)
Yes, the skimmer is very consistent. I am getting very dark tea colored skim. It is not black but that is probably because my bio-load isn't that high. I am pulling about 1 Liter of skim a week and have not cleaned the skimmer neck or cup yet. It looks very nasty and will clean it soon but the skimmer still skims like a champ. In the past, skimmers I've owned wouldn't skim unless the neck was cleaned every day. I haven't cleaned my Lifereef since I installed it a month ago. I turned the dc pump up to full speed to test out a bit more air/water draw. I essentially doubled my skimmate collected in a weeks time. Before I was only collecting about 0.5 Liters per week now I am collecting 1 Liter a week. And the only thing I changed was turning the pump from 90% power to 100% power. This was the best purchase I've made in a very long time. My past protein skimmers have been: EuroReef CS80, Tunze 9011, ATB 840, AquaC Remora, Bubble Magus NAC 6, and Vertex Omega 150 Jared L.
---
03/10/14 Prefilter Box
It's been awhile since we last spoke, but to be honest, I've had little reason to contact you as the Single Prefilter/Overflow Box that we ordered from you and put into service in 1997 has worked FLAWLESSLY for 16+ years on our 90g system. The quality (and resulting longevity) of your work must just kill your repeat business since these things will NEVER wear out! Haven't you ever heard of planned obsolescence?
---
01/16/14 SVS3-30 Protein Skimmer (A bit long but this customer realizes the differences in design on what works and what are just gimmicks and fads.
Jeff, I just wanted to touch base after having my SVS3-30 skimmer with ozone kit for about 8 months now, running on my 200g mixed reef display, plus a display refugium, a frag tank and sump all totaling about 350 gallons. I was previously running a Vertex Alpha 250 (on this tank, and I've had other skimmers in the past), and though I'm sure it's a fine skimmer for some, I was fighting with it for an entire year. Some days it seemed to skim great, but then it could go a week or two without skimming a drop. There were way too many adjustments, making it a nearly impossible balancing act. Water height in the sump, volute on the pump's intake, turning the standpipe to adjust the outflow... and then there were other suggestions online like removing the silencer sponge which could clog with salt over time. The whole thing was nothing but a major hassle and I was constantly wondering how much gunk was being left in my tank. Even with a bioload on the lighter side and light feeding I still had nitrates and phosphates that were on the high side. Then I came across your website and started reading your skimmer page. It sounded almost too good to be true. But after a phone call with you and the fact that I could sell the Vertex for what I paid for it since I bought it used, I figured I didn't have anything to lose and took a chance. Boy am I glad I did! I got the 30" skimmer with the ozone kit (something I was just thinking of starting at the time). Everything arrived really well packed in two big boxes. Assembly was fairly easy and it came with good instructions. Once it was set up and I had removed the old skimmer, I got my new LifeReef skimmer into my sump, made the necessary adjustments and I was off to the races. To my surprise, this skimmer actually started skimming/foaming in 12 hours! Within 24 hours it was started to fill the cup with some nice dark tea colored skim. Over the next few days it pulled more dark skim then my Vertex had in months. And it's still going! Not only that, but every single statement you make on your website is absolutely true! I've played with the skimmer a little bit here and there adjusting the density of the skimmate, but really once you make your initial adjustments and it starts skimming consistently, that's it... you are done. No more adjustments, pretty much ever. And it's so easy! Just the one single adjustment. No more balancing act. Cleaning is a cinch. All I do is turn the valve at the base of the cup and let it drain through the hose into another container. I got the upgraded 8" cup and I have to empty it every couple days! I don't actually remove the cup to clean it other than maybe once a month. It doesn't seem to need it. It just keeps on skimming like a boss. I have yet to do any other maintenance. Amazing! This skimmer beats other skimmers costing 2-3x as much, and it does it without all the so-called "modern technology". No cones, bubble plates, needle wheels, etc. I now recommend your skimmers to anyone looking for a new skimmer whether it be their first, or a replacement for what they have currently. I think my favorite thing is that other than having to empty the cup so often, I NEVER think about my skimmer anymore! And most recently, I had to pull my GFO reactor offline completely and increase my feeding. My corals were starving! Thanks, Jeff! Can't wait to get my Calcium Reactor. I figure if it's near as good as your skimmers, I will be very happy with it! Dennis D.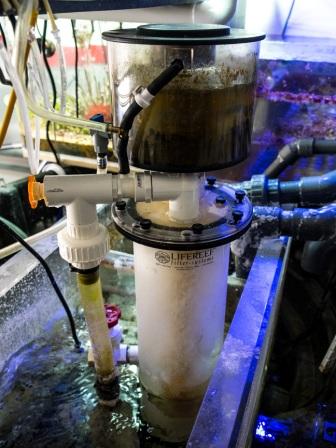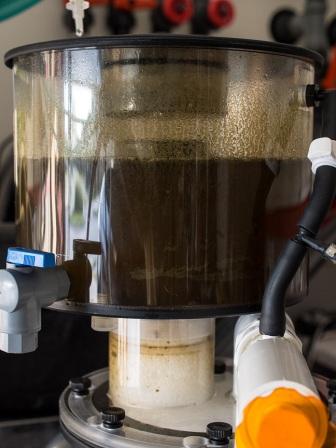 ---
11/09/13 Prefilter Siphon Box (overflow box)
I received my new overflow yesterday, Instructions were great and let me tell you this is great piece of equipment. Everything about it is made well, and I don't really think that I need to talk about the operation but I will it works phenomenal. I played with the air line tubing on the top of the silencer just a bit and it is dead silent and holding perfect water level in my sump. Now I can go out without fear of my house flooding anymore. If anyone owns or has owned a CPR overflow they know what I am talking about. Nothing more to say best overflow that I have ever owned. Thanks again Jeff great product, D. E. Gray
---
10/30/13 General comment on a Lifereef Berlin System.....
On a side note, you know what I had to tweak on my Lifereef set up today? Not a damn thing. I spent several hours cleaning the tank on Sunday and the water kept flowing, the skimmer kept skimming, the fish kept swimming. I really have to bite my tongue when people complain about their crappy gear or worse hear that people complain about the price of Lifereef. Live and learn people, live and learn. D. Merkley
---
10/30/13 Comment on the Lifereef protein skimmer....
Thanks Jeff. I'm really excited about your skimmer. I was a hobbyist back in 1988 that was part or the "trickle filter " era. Unfortunately I only lasted 3 years as I had to focus my attention to other things that were consuming my time and money. Now about 25 years later I'm back in the hobby with more excitement than ever. It's interesting to see what manufacturers, products, and technology are left over now that the dust has settled. It's also fun to see some of the new products. One thing I remember about skimmers is the importance of contact time between bubbles and the saltwater. My air stone skimmer in 1988 was about 3 ft tall. I couldn't believe that today's skimmers are about 20" tall. And 8 of that is the cup. That's what drew me to your skimmer. The height plus the Venturi system. The EURO REEF skimmer I own is killing me. I am fiddling with it every 2 days. Sometimes the cup overflows and pollutes the water. That happens about 2x a month. I'm over it. As soon as I sell the euro reef and my KORALLIN calcium reactor I'll order the taller 30" skimmer. David B.
---
10/30/13 SVS2-24 in-sump Protein Skimmer
My new Lifereef skimmer has been running for 2 weeks on my 240 gal reef tank. I compared many skimmers before this purchase, Reef Octopus, Eshopps, Aqua Medic etc.. This is this the best skimmer I have ever owned. Since day one it has worked flawlessly. The amount of material it has removed from my tank is incredible. I have made one adjustment since the skimmer went into the sump. With my Eshopps skimmer I was under my tank every day adjusting,emptying and cleaning that skimmer. My six month old Eshopps now resides in a landfill where it belongs. The build quality of my Lifereef skimmer is top notch. The packaging was perfect. The instructions and setup were easy, no trips to Home Depot for a fitting or part. Cleaning out the cup? Buy this skimmer just for that. Turn a valve, drain the cup into a container, 2 minutes tops, didn't even get my hands wet. Have a question? Send Jeff an email or call him, he gets back to you quickly, unlike most companies. No micro bubbles, my water is crystal clear. How good do it think Lifereef products are? In the future, any piece of equipment that I need to replace or purchase, if Jeff builds it, I will get it from him. Why waste time and money on products that are more hype than value. Dan P
---
09/13 RSM Nano Prefilter Box
Jeff: Thank you for such a legendary product! Just not a good or a great product...but LEGENDARY and so much more! My Lifereef RSM Nano overflow box works like a charm and looks great too! Your instructions were very detailed and bullet proof for a noobie like me (as far as setting up a refugium). You know you have a legendary product when others are in awe of such a neat overflow for a nano aquarium. I appreciate your fast and reliable communication from start to finish as well as the super fast shipping! I will be sure to spread the word about your products and ensure I continue to do business with you in the future. Definitely worth the wait! Thanks again! ~Ryan B.
---
09/13 Overall Berlin System Comment
On a side note, you know what I had to tweak on my Lifereef set up today? Not a damn thing. I spent several hours cleaning the tank on Sunday and the water kept flowing, the skimmer kept skimming, the fish kept swimming. I really have to bite my tongue when people complain about their crappy gear or worse hear that people complain about the price of Lifereef. Live and learn people, live and learn.
---
03/12/13
Hi Jeff, The sump/refugium exceeded our expectations. It looks and performs amazingly. Your website mentions 30 years of experience - there is no doubt that you have made the most of that time. Thank you for accommodating us and we look forward to inviting our local guys to show them this fantastic piece of work. Jared and Mami
---
06/12/12
I'm so glad I went with Lifereef and not the other guys. The quality and craftsmanship is hands down professional. I looked at so many other sumps/refugium setup after ordering the CLF1 and almost canceled the order because of the cost. It's awesome and the setup was straight forward and all the hardware you need is included. I can say that other system are not complete, lots of extras you have to purchase. The support I got from Jeff was great. Thanks Again, Adam Finke
---
02/15/13
I received my order from Jeff yesterday at Lifereef. I placed it around OCT 2012. I can honestly say, the wait was worth it. I have never seen a setup like this before. It is by far the best sump, skimmer, canister design I have seen. Lots of thought has been put into the design of this system. I will be posting pictures of before and after soon. The before consists of the following......... see thread at ReefCentral
---
I wanted to quickly share my experience in dealing with and using Lifereef products. I've been an active reef keeper for 8 years and have always been a firm believer in excellent product design, quality and customer service. In this hobby there are certainly trends and fads that come and go; which we all need to be aware of. I'm very selective when it comes to my livestock and equipment. About 4 years ago while researching external overflows I noticed that Lifereef products kept emerging and decided to give one a shot. The Lifereef website makes some pretty bold claims about never having to redesign their products once perfected and how the overflows will start and stop without the use of an aqua lifter pump. Being a bit skeptical, I put the product to the test and was able to get it to not work. Unbeknownst to me; I didn't have all the correct parts to my overflow since I bought it incomplete from a fellow aquarist. Jeff, the owner and designer of Lifereef, took the time to help me "fill in the gaps" through many emails and phone calls. Not once did he try to up sell me or make any excuses for his product. It was my fault that it wasn't working to his specification and he patiently walked me through my equipment and helped me find exactly what I needed. Now that I have the full "Slimline" setup running with his silencer via MagDrive 7 pump, I can turn off the pump and the overflow stops AND restarts just as advertised! I've actually shown a few local club members and they too were in disbelief! Jeff's level of customer service and quality of product doing EXACTLY what is advertised has made me a true believer and customer for life! He makes all of his products himself, by hand, IN THE UNITED STATES! If you're on the fence about an external overflow (or any of his products for that matter) do yourself a favor and order from him today. He makes no promises on deliveries or time frames that he doesn't keep and I truly believe his business is so successful based on him being a hobbyist FIRST, and a business person second! Thank you Jeff and keep up the great work! Very truly yours, Stan N. Branford, CT. Jeff; feel free to post this anywhere you'd like to promote your business. Id also be glad to be a reference for anyone you need! Stan
---
LF1-150S Berlin System with 24" LifeReefugium
The craftsmanship of the filtration system you built for us is unsurpassed! I am enthralled with the attractiveness and cleanliness of the entire system. The moment I unpacked everything I began taking the doors off the stand so that I could display the work of art that you created! I appreciate the attention to detail and pride in your work. The time and dedication shows in the quality of the finished product! David O. Jr.
---
you might not remember me but what the hell:) this is lucy, the crazy lady from nebraska. i am in the process of cleaning my lf2 that i bought from you, oh man, almost 20 years ago?:) my ex husband killed my 8 year old marine tank by spraying for ants right up against the filter. you can guess the devastation:( i went ahead and kept it running for another few years but refused to add anything else since it killed everything and i assumed my live rock had all absorbed the pesticide. i finally tore it all down and put it away:( it's been in storage for for nearly 10 years now. one of my little boys:) there were 3, (i believe you had 2 at the time:) is now all grown up and wants a tank of his own:) fresh water thought. so i told him he could use all my old stuff and have a hell of a set up for a fresh water:) he even gets my brand new 20 year old 75 gallon oceanic fish tank:) and while cleaning that filter brought back allot of memories, one of which was you:) i was so glad to see you still doing the thing you loved:) i wasn't sure and thought, well, i will just look lifereef up on line and if you were still in business you would have a web page. and lo and behold!!! there you are:) i just wanted to stop by and say hello:) and thank you for many years of help and for making this filter so damn well that a second generation in my house will be putting it to such good use:) case(my youngest son) is very excited and we are going to go set it up for him tomorrow. he lives about 3 hours away. he and my oldest son live together, and they are both making plans. my middle son is setting up a small tank for jelly fish of all things so he is needing some of my other marine stuff:) my tank made a huge impression on the boys and they all have an interest in them:) anyway, i just wanted to say hello, and thank you! and i'm so glad you are still doing what appears to be so well:) take care and the best of luck to you in the future:)
---
Hi Jeff, The 600 gph slimline overflow that I bought from you works absolutely flawlessly! I have turned on/off the power to my return pump and have also played with the flow rates with the overflow line (ball valve) trying to simulate different situations. The Lifereef overflow box starts up every time and it's build like a tank as well. I will have to admit that I was skeptical at first about your overflow box with all the horror stories that I've heard about other brand overflow units, but the Lifereef overflow box proved my suspicions wrong. Keep up the great work! Thank You, Eric
---
LF1-200S, VS3-24, 24" LifeReefugium
Jeff this is Andy Mastrogiannis writing to you on saying you have a great product I bought a complete system from you back in February: LifeRefugium, Prefilter/Siphon Overflow Box, sump and protein skimmer. I had CPR overflows on my 150 gal reef tank and they were a absolute pain to clean with the air lifter pump which gets clogged by algae. Once I put yours on my tank that was not a problem and siphon starts back up with a power outage big plus. When I installed your protein skimmer I could not believe I set it once and have not had to mess with it like my EuroReef veturie stopping due to salt creep. and your sump wow so much easier to take care of and everything looks so nice under my tank and craftsmanship is the best I have seen thank you so much.
---
Jeff I recently decided to get back into aquariums again after almost 15 years. I did a lot of research and seen how much the technology has changed. I started researching filter systems online and in local distributors and found nothing that could come close to what you produce. The quality was not there and the customer support online/telephone and in person was not there. You spent many hours on the phone answering questions on several occasions and had not even had a deposit from me. After I gave you a deposit you still gave me immediate answers. After I received my system and set it up and had more questions you were right there responding to my emails.The quality of the system cannot be compared to any other system out there. This was a system worth waiting for; in the future I will not look anywhere else and come straight to you for another system. I plan to eventually do another smaller tank and will come to you when I am ready, feel free to share my email address with any customers that feels the need to contact a past customer. Jeff; thank you so much again for your system and great advice! Mike Purazzo New Jersey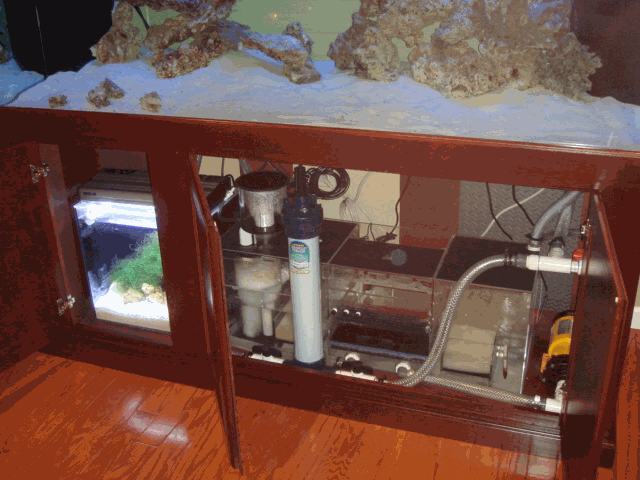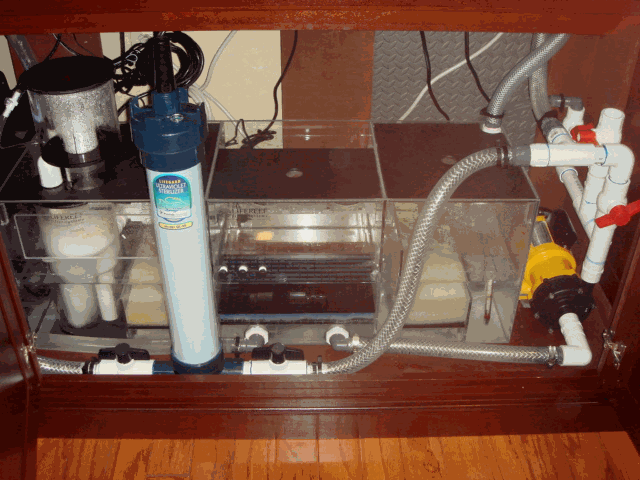 ---
Customers response upon initial unpacking and setting up his custom Lifereef System:
Jeff, I received my filters and I am absolutely impressed by the level of craftsmanship that you have put into your designs. The two units went right into the cabinet space with still room to spare. Your instruction manuals that you provided made the entire assembly in less than five minutes! By far this has been the best investment that I have ever made since getting into this hobby! Again my friend thank you so very much for the products! Two thumbs up for exceptional service, dependibility, and craftsmanship!!
Customers response several months later after running his custom Lifereef System:
Jeff, I've the entire system has been successfully running four over three months now and thier are absolutely no issues! In short your product has definately met all my expectations for my delicate reef system. I love it, the fish love and the corals love it!!!!!! Thanks again for the excellent product!
---
LF1-150S, SVS2-24, 24" LifeReefugium
I just wanted to let you know that purchasing my LF1-150S and Liferefugium was the best purchase I made since I been in this hobby! Keep up the excelent work......Kyle Goodwin Detroit MI
---
Jeff, Thanks again for fantastic service! I was looking at the "compliments" section and discovered something that potential customers should probably be aware of: I do not know of anyone, even my LFS, that consistently spends as much time as you do with your clients/ customers. Once you have an understanding of what we want, then you "advise" us on how best to achieve the end result. This makes our fresh and marine "pets" quite happy with their new digs. That is a service that you excel at. It should be recognized too. Yes, you are spending some $.... but you are getting one of the best filter systems around and you do not have to get a second mortgage! I do have a few of your systems... but I also know that we have talked extensively about each system. Keep up the good work!
---
Compact LifeReefugium II System
Jeff - Thanks. The Compact LifeReefugium II arrived today. I'm very impressed! I can see you are a total perfectionist! The merchandise was well worth 4 months of saving up my pennies! The packaging was first rate! I'll be taking 5 garbage bags of styrofoam peanuts to UPS so they can be recycled. I've already decided to start saving for a calcium reactor simply based on the quality I see in the construction of this system. Thanks, Bryan
---
Custom Sump, SVS2-24 skimmer, LifeReefugim
Jeff, I've the entire system has been successfully running four over three months now and there are absolutely no issues! In short your product has definately met all my expectations for my delicate reef system. I love it, the fish love it and the corals love it!!!!!! Thanks again for the excellent product! Sincerly, From a very satisfied customer! -Amit
---
VS3-72 (Six Foot tall) Protein Skimmer: previous skimmer Euro Reef RS-250
RS-250: This was my old skimmer. Problems were numerous, constant adjustment of air, cleaning collection cup, and when the air intake got plugged it would spray water out of my refugium everywhere. If their is any change in water level in the refugium it either stops making foam or overflows. The final straw was that even though the skimmer was only two years old it was making very little foam and the nitrates were going up. We had a green hair algae out break and red algae starting to form every where causing our corals to start dying off. We started looking for a new skimmer......
We purchased the VS3-72 skimmer and have only had our it for about a week but we are very, very pleased with it. Once we had it set up and the water level adjusted we have not had to touch it. The only thing that we need to do is check and drain the collection cup, no taking the skimmer apart to empty the collection cup and having to readjust everything when it is put back together. The first couple of days we did not get too much foam but after that the foam has been getting darker and thicker. We will keep you updated....... One other thing the skimmer is just about maintenance free. After three weeks I cleaned the collection cup. I used to clean my old skimmers collection cup twice a day. I just drain that nasty stuff out once a day and walk away. Thanks, Shawn & Sharon
---
VS3-24 Protein Skimmer (previous skimmers: Euro Reef and ASM)
Customer was so impressed with the first skimmer that he ordered a second!
Well I'm very proud of myself because I just finished assembling. Not that it's complicated, but I had to literally assemble it in the sump in order for it to fit, including installation of the gate valve. That's because of my weired set up. But it fits like it was custom made for my tank and looks great. VERY easy to remove the collection cup and I didn't even know about the automatic emptying feature. Love that. VERY well constructed and incredibly well packaged. PS the Mag pump, with which I am not familiar, is way heavier and kick ass than either the Euro Reef or ASM. No comparison. Hooked up the pump and it's working GREAT. LOVE the gate valve-never had that precise level of adjustment before, the Euro was very primitive with an adjustable sponge. And it is SILENT. So far I am thrilled. BTW the Mag pump is WAY more powerful but doesn't make a sound. The unit is taller, WAY more powerful and provides much more bubble space that the Euro but with smaller footprint & less noise.
Ya know...someone ought to just take a picture of the clogged venturi on a Euro reef and then explain how it messes up the operation by creating noise and a billion little bubbles in the sump that return to the tank and make the water look silty. Then, to fix it, you have to detach the pump and use just the RIGHT tool-must be the width of a small nail and the length of a finger--to dig out the hardened salt. Try finding that tool and keeping track of it, which you will very much need to do. I have a 350g tank with 2 Euros each rated for 200g and they each get clogged on average every two weeks. The digging wears out the venturi opening over time.
I cleaned the Euro Reef at the same time I installed the LifeReef. Today I have about and inch to inch and a half of pretty dry sludge in the LifeReef and about half an inch in the much noisier EuroReef. What break-in period??!! This thing is really fantastic!
---
VS3-72 Protein Skimmer (6 foot tall!)
Jeff hope all is well. The six foot protein skimmer has never stopped working once in three years and is keeping my reef tank perfect with no recordable levels of nitrates or anything else. As you know it is treating about 500 gallons. I have included a few of the latest photos so you can see how well my sps and other corals are doing thanks to your skimmer. I have the skimmer connected to a 5 gal bucket with your shut off float switch so I only have to clean it once per week if that so it is has been very easy to operate. F. Vernese.
---
02/09 Prefilter/Siphon Overflow Box
Hi Jeff- That 600 gph overflow box you sent me is SUPER AWESOME! I can't believe how great it is. It truly is super strong and I no longer have any problems with air bubbles getting trapped in the siphon tube so I'm so glad I trashed my old overflow box. I mean your box has NO PROBLEMS and is 100% reliable; I turned off my pump multiple times and starts up with no problems. Your product is not only great - it is SUPER AWESOME!!! I bought it from you because I heard great things all over the internet about your overflow boxes. Well-it was well justified!!! I AM ONE VERY HAPPY CUSTOMER!! Very very appreciative! Luke
---
09/09 LF1-300 Berlin System, 24" LifeReefugium, Lifereef Float Switches, Lifereef LCR2 Calcium Reactor
WOW! I do not know who packaged my system.... but what a great job! It is probably the best packaging that I have ever received from anyone! Thankfully we have a shop vac- great for the pieces of packaging peanuts.
Good Afternoon Jeff, I just have to let you know that I really do just love my system. The water for the 90 gal system is so clear that the fish look like they are actually floating on air! Parameters are great! Your system is better designed than the LFS that is working on my 300 gal system. Your skimmer just requires a gate-valve adjustment. My LFS skimmer (ASM) requires constant attention from pump flow, salt creep/clogging and not to mention a constant cleaning fiasco. Thanks for a great product! . Thanks again for a wonderful line of products! Marty
The skimmer that my LFS "swears by" is ASM. The only reason I can think of as to why is it does require constant maintenance. You know, tweak the (1) air,then (2) the water pump, then (3) the gate valve. Are you done? NO - return to step (1) and begin again! Always monitor for salt creep - major tear down and assembly to correct. A mandatory maintenance product and a job creating product. Lifereef quite different - Just adjust the gate valve. Then enjoy the tank. This is what the hobby needs! Thanks again for a wonderful product! Marty
---
LF1-150S, SVS2-24, 20" LifeReefugium
Hello Jeff, I received the products at my door … I wanted to thank you for the extraordinary service and attention to detail you put into your product … I feel extremely lucky to have come across your website. Everything from the packaging down to the paperwork and instructions are meticulous … If only other companies I dealt with would be to half of your standards things would be much easier. Thank You. Cheers, Dario
---
LF1-150, VS3-30, LifeReefugium, LCR2 Calcium Reactor
Hello Jeff, I finally finished my reef set up, everything works fine. I have had no problems with any of the equipment I purchased from LifeReef. Everyone that sees it is very impressed especially the owner and employees at my LFS. Calcium Reactor started and was dialed in within 3 to 4 days. I just started the Skimmer 2 days ago after cycling tank for a little over 4 weeks with live sand and a few live rocks. It started skimming in a matter of minutes. I set up and started this equipment myself and I've never used a Skimmer or Calcium Reactor. When I first decided to build this reef tank I don't know how many times I read don't try to save buying cheap equipment. My LF-150, 20" Refugium, LCR2, float switch and all other accessories were worth every penny I spent on them. Thank you for providing a product that made this beginner set up experience an easy one. I tested water today and no signs of Ammonia, Nitrites, Nitrates, PH is 8.3, Calcium is just over 400 ppm and water is virtually invisible. No additives were used to get water to this condition. The only added chemical to date was one dose of Nitro Max to help speed up cycling. John S.
---
HVS2-24 Hang-On Protein Skimmer (previous skimmers: Prizm and Remora)
Hey Jeff, Quick question, on my other protein skimmer they said clean the collection cup daily or it would reduce its efficiency. Didn\'t see anything in your directions about doing that. In a week I have as much gunk in the collection cup as my old one did in a month and about 2x darker!! Thanks for a great product. My husband who takes no real interest in my little hobby took major interest in the skimmer! We named it the monster ha ha. Thanks Tina T.
Follow-up: Hey Jeff, Sorry this took so long, the "monster" has given me free time for spring planting! I don't have to do my weekly 20g. water change because in 1 week my nitrates dropped to a steady 2.5 !!! I am just thrilled. I am now saving big on r/o water, time, salt & testing. My first skimmer was a prism delux which lasted 6 months. The cheap plastic cracked when I reinstalled the motor after cleaning it. I thought it worked good until I got a Remora Aqua C with 1200 maxi jet. But the Remora put out 2x what the Prism did. Thought I was happy with the Remora. But after you & I talked about my nitrates & the scum on my water I decided against the overflow & went with your skimmer. Well BIG difference!! No more scum on the water. I thought my water was crystal clear but now when I look at it sometimes there doesn't even look like there is water in the tank!! Now that is crystal clear! Inclosed is a picture of the skimmer after 4 days running. Even the smell of the waste water is stronger! (phew) I may still be a beginner in the saltwater world but I can say I am now professional protein skimmer!! By the way just so everyone knows how fantastic this skimmer is the only filtration this 95g. tank has is 175lbs of live rock & 125lbs of live sand and "the monster" skimmer. Thanks also for such a sturdy, well made product. Tina T.
---
SVS-24 vs Bubble King Protein Skimmer
Hi Jeff, How long do you think my SVS2-24 In-sump skimmer can hold out in my 260Gal tank before I can get a new one. I need to save up to by a new one. I had a bubble king but it didn't skim as good as the lifereef one And what model do you think I would need if I had to buy a new one from you. Thanks Victor
---
VS3-72 Protein Skimmer vs lots of other skimmers.....
Jeff thank you for the help on picking the VS3-72 skimmer. In less than one week the skimmer has helped drop my nitrates from off the chart to a low of 5. My prior skimmer coulden't even touch the performance of your skimmer. This is on a 300 gal system. No more skimmer of the month club for me. Thank You Greg
Prior skimmers: ETSS . MRC . MTC .ASM / BILL WAN/SPAZZ YOURS IS STILL PULLING OUT DARK SKIMMATE
---
VS3-48 vs ASM Protein Skimmer
Well for one thing the ASM collection cup cover is a Pain in the butt to get off to clean the skimmer. The overall perfornace of the skimmer is horrible in my opinion. Your 48" skimmer removes about a liter a day of crap. The ASM can go for a month without having to empty the collection cup. Just overall I am not happy with the ASM. BILL
---
Hi Jeff, I just got back from two weeks vacation in VT. The overflows are working fantastic and I've not had any problems with them. They've been tested numerous times with storms and power outages also, and start right up with no issues. I clean the "U" tubes and the top of the prefilters boxes of algae, etc., every couple months just to be sure but haven't had any problems. You have a great product and I'm really impressed
---
VS3-60 vs Deltec Protein Skimmer
Jeff, I picked up my used VS3 60" with the 12" extension from Vince M. here in Richmond. I have been very impressed over the last year and a half watching this thing perform on his tanks. I have witnessed it out perform a Deltec 703, so when he offered it to me I could not pass it up. And to top it off all of those Deltec Skimmers are 1/8" extruded Acrylic, not even cast. They are so thin that if you twist the top off (as I did with my Deltec APF600) without holding the body, you will crack the intake bulkhead. I have been watch yours perform for Vince for the longest and it is such a simple design that works. The Mazzi's are what does it. Beckets are great if you want to spend hours each week or day fiddling with air tuning so they do not blow the top off. Yours are just so easy to run once they are setup and all you have to do is basic maintenance, like clean the diffuser plate every once in a while and make sure you keep the drian lines clear, that's about it. I know I am going to love this on my system and will be a customer for some time from here out. Thanks for having such a great skimmer design.
---
VS3-36 Protein Skimmer
Just to let you know ... the skimmer is really starting to skim very very well now. It is everything you say it is and everything I expected. I am also very impressed with the bubble size. I dont think I have ever used a venturi skimmer that has produced bubbles as fine as this. The little Bermuda drew a lot of air for its size but the chamber was never very milky looking with the bubble size being larger and much more typical of the other venturis I have seen and used. I have used at least 4 or 5 different venturi skimmers over the years and none have produced this fine a bubble. I think that this VS3-36 skimmer actually rivals the needlewheel recirc. skimmers I have used in bubble size. If they arent quiet as fine they are definitely close. The chamber of the 3-36 appears "milky" like one would expect from a good needlwheel that pulls a good amount of air. I didnt expect that at all with any venturi skimmer. Very impressive Jeff. Thanks again. Des
---
VS3-48 Protein Skimmer
Jeff, i just wanted to write a quick summary about your protein skimmers. My wife and I own The Aquarium In Old Town in Wichita, Ks. We purchased a VS-2-24 several years ago for a reef display tank in our store. We were so impressed with the performance of that protein skimmer that during a recent remodel of our entire store we decided to add (2) of your VS-2-48 skimmers to our in store central filtration system. All i have to say is WOW! These skimmers have been running for several weeks now, and are already out performing the old Emperor Aquatics skimmers that we installed 14 years ago. The old skimmers worked ok as long as i constantly adjusted/cleaned/tweeked them. The new skimmers are very consistent, and don't require anything except cleaning of the collection cups. We are very impressed with your line of protein skimmers and wanted to thank you for your exceptional designs. Rick n Tonya www.theaquariuminoldtown.com
---
Jeff, I would like to thank you for taking the time to seriously talk to me about the issues I was having with my ZeroEdge/ Euro-Reef set up. At the time I was truly not going to build a new tank and was just asking advice. During our talk it was apparent that you really know filtration and the thing that really stood out is that your genuine and honest. I never felt like I was being told what I wanted to hear just to make a sale. At that point I realized that I was never going to get where I wanted to be with my current set up. When I received the boxes I could not believe how nice and complete it was. I didn't have to buy any fittings, clamps, or hose it was all there and then some. Next I would like to say how happy I am with the CLF1 performance and now I know what real "Foam" looks like. I owned the Euro-Reef skimmer for 6 months and now realize I was only making bubbly water not foam. Live and learn I guess. The other thing I must note is how quiet it is in my office now. The needle wheel skimmer just sat there and buzzed all day and drove me nuts. I feel like this system will be with me for many tanks to come and if I out grow it I will definitely buy another. Thanks Kermit
---
VS3-72 (6 foot tall!) Protein Skimmer
Jeff, I received my skimmer today, and I have to Thank you for your great skimmer and customer service. You always replied to my e-mails and even gave me a phone call. I just finished hooking up the 6' VS3 skimmer and I have to say it is the best workman ship I have ever seen!!!! I will definatly be buying from you in the future. The part that blew my mind was that you even included all the fittings, teflon tape, clamps and even the hose to connect to my sump!! The other skimmer that I bought a while ago from someone else never came with any of that! Geuss what? The other guy just lost my future buisness. Thank you very much Jeff!!! I will be buying from you again, and I will highly recomend your work to other's on all of the forums that I frequent. Colby
---
Hello Jeff, I finally have my Lf1-300 set up and I have to say, it was extremely easy to hook up with your directions and diagrams. I am new to the sw hobby and buying your system was the best choice. Your workmanship is incredible and your customer service is superb. It is nice to see that there is still good old fashioned quality and customer service avaiable. Can\'t wait to add a refugium and calcium reactor.
---
VS3-48 and LCR2 Calcium Reactor
Hi Jeff, well its been a little over a year now since i bought the vs3 48 skimmer from you, and i still say, in my opinoun, their is no equal, works awesome, and i have it attached to a floor drain,and if i wasnt so picky on how my skimmer looked i would not hardly ever have to touch it.The lcr2 reactor, same thing, awesome, just simply hook it up and forget it. Thanks again for such fine craftsmanship. Jesse W.
---
VS3-36 Lifereef vs ASM G6
I have had 2 Lifreef skimmers in the past(30/36) and loved them, I jumped on the needlewheel wagon and now i am going back to the Lifereef,should have stayed with a good thing,ya know. My wife is not happy with the cost of another new skimmer, So I am trying to sell my ASM first,Sorry i don't have much of a choice. I am hoping it sells quickI had a VS3-36 running on the same system(total water volume 300 Gal.) that i have now,running with a ASM G-6 needle-wheel. I am cleaning the ASM air tubing about every 4-6 weeks,as they clog the skimmer production decreases very fast. When it is running at top performance i don't believe that it skims as well as the lifereef 36. The lifereef is easier to set wet or dry and the construction of the ASM is thin and flimsy as the lifereef is built like a tank. Thanks,Marcus V.
---
Prefilter Siphon Box vs CPR CS90
I would like to thank Jeff for solving my overflow problem. I was using a CPR CS90 overflow with the aqua lifter pump. It constantly failed and was a worry to myself. I bought the Lifereef Overflow and it solved all my problems. I unplugged the pump 7 times and it always regained siphon. I want to thank Jeff and Lifereef for offering a great solution to my problem. I am now a Lifereef believer. Thanks vincent.prezioso@hotmail.com
---
LF2 Wet/Dry Custom, SVS3-36 Protein Skimmer
Jeff, I got the system insalled without any trouble and it is running beautifully! The tank after one night is already showing improvement, and the filter and skimmer are running perfectly. I do intend to have you do the filters for all of my projects from here on out. The filter you made works incredibly well and also looks very nice. I have already gotten comments on how much nicer everything looks both in the tank and in the cabinet. I am especially impressed with the skimmer, after plugging in the Blue Line HD X 30 pump (1,100 gph) and adjusting the flow slightly with the gate valve on the return dark skimmate was already being produced within about 3 minutes! I'm sure if they could, the animals in the display would love to thank you. Thank's again Jeff and I will get in touch with you soon for the next project. Take care, Brian EXOTICAQUASCAPES@aol.com
---
LF1-150 Berlin System, 20" LifeReefugium, LCR2 Calcium Reactor, Float Switch/Solenoid
I've been very impressed not only with your products but as a business owner myself, I can truly appreciate the way you handle your business and customers,its great to see someone these days that actually cares about all facets of the way they conduct themselves and its no wonder you've been making such great products as long as you have. I'm looking forward to meeting you one day. Amanda B.
---
LifeReefugium II System (LR-II) and LCR2 Calcium Reactor
I have to say your sump and skimmer has done wonders. The water looks great and I checked my nitrate and it was at a 1-2 reading for the first time ever. I've decided that I don't need to do another water change this week as I have been doing weekly since last summer. I'm so glad to be saving the money on salt mix. Thanks again, Ric
---
SVS2-24 In-Sump Protein Skimmer vs Euro Reef and AquaC
Hi Jeff, Just wanted to drop you a line, and let you know how things are going with my new SVS2-24 skimmer..I must say this skimmer is quite a beast! It's been running for roughly 2 weeks on my 125g, which I'm currently cycling about 200 lbs. of live rock. I have used other skimmers in the past, (Euro Reef RS-80, RS- 135 , and Aqua C Remora) but nothing, and I mean nothing, has produced better, and consistant skimmate like my SVS2-24 is producing. The skimmer truly is a masterpiece, and worth every penny. thanx again Jeff! Jim H. ctcichlids@aol.com
---
LF1-150 Lifereef Berlin System and Lifereef LCR1 Calcium Reactor
After being in this hobby for many years... I finally decided to invest in my "Dream Tank". I've been aware of your products for many years and I always loved the fact that you offered an integrated filtration system. Four months ago, I ordered an LF1-150 Berlin system, VS2-24 skimmer and an LCR1 Calcium reactor... what a great investment! The phrase "You get what you pay for" is so relevant to this hobby and to your products. My experience with Lifereef has been wonderful... from the quality of the equipment to the personalized attention that you provide your customers. You have saved me from the headaches and worries of trying to piece-meal a system together on my own and wasting money needlessly. Thanks to you and you're products...you have helped me achieve my "Dream Tank". Thanks for everything! Jay Garcia Hallandale Beach, Fl JFK_Jr's 150 Gallon Starphire - in the Reef Chronicles forum of Reef Sanctuary. http://www.reefsanctuary.com/forums/showthread.php?t=12022&goto=newpost
---
LF2-75 wet/dry, purchased in 1991
Jeff-- I recently had to take down my tank and wanted you to know how great my Lifereef LF2 -75 system worked. I got it 9/1991, yes 1991 and it has been running continuously since then without a problem. In fact it looks good as new. Thanks for making such a dependable product. Tom B.
---
LF1-150 Berlin System
Hi Jeff, WOW!!! I put 240 pounds of live rock from Vanuatu in my tank today and started it up. The protein skimmer went crazy as expected, this thing is incredible. The whole system is working like a well lubed engine. I've read a bunch (and I mean a bunch) of stuff on all the different kinds of skimmers and they all seem to have adjustment problems. They should've bought a Lifereef. Plug it in, turn it on, and BAM, instant goop in the cup. Since I've never seen another skimmer I don't understand all the issues with the other kinds, but I guess that's their problem. Thanks for everything. Cheers, Steve turbz@cox.net
---
CLF1 Compact Berlin System
Everything is set up and running and WOW! The skimmer started working in one minute!! That has never happened to me before with any other brand of skimmer. It's a monster!!! Thanks for offering such a sound, complete, and high quality system Jeff! You are the man! take care, Jared jaredtafel@gmail.com
---
VS3-36 Protein Skimmer vs ETS
Jeff, I wanted to say how pleased I am with my new VS3-36 Skimmer. Having had a large ETS skimmer previously, I'm amazed at how much more numerous the foaming bubbles are. They are the perfect size (not too small and not too large). I also like the fact that the venturi is not integrated/welded inside the skimmer frame and can even be replaced or serviced if necessary (a problem that eventually doomed my old skimmer). The gate valve has a much more direct effect on the water level inside the skimmer than I was used to. These are just a few of the "better than my previous skimmer" impressions. Jeffrey Johnson
---
VS3-36 Protein Skimmer
I recently bought a used tank setup that had one of your skimmers on it, 30 inch tall, 36 with the cup. I hooked it up and it made my ETSS 800 obsolete (constant fiddling). The craftsmanship is superb on this unit, and after looking at your site I think I need one of your sumps..... Tim
---
LF2 Wet/Dry
I got the filter cylinders hooked up on the wet/dry filter system on my cichlid tank last weekend & am extremely impressed with the superb craftsmanship and well-thought out design on everything. Although I have a well-equipped workshop and, in principal, could have built everything myself, I would never have been able to think through all the small details you have incorporated that make maintenance and operation easy and enjoyable. For the same reasons, I'm also pleased with the calcium reactor, skimmer and sump I ordered for my reef tank last year. I really consider your equipment the best buy available anywhere for the aquatics hobbyist. Thanks much for a superb product and fantastic service. Phil Jones, Iowa
---
LCR2 Calcium Reactor
I'm having great success with my LCR-2 Calcium Reactor. Once I learned how it worked and how to precisely work the PH out of the effluent my readings are 11KH and 424CA. Set it and forget it !
---
SVS2-24 In-Sump Protein Skimmer
Jeff: Well, I finished set-up on Friday afternoon, and I must tell you, this is one of the finest pieces of equipment I've ever owned!!! It already has bubbles and film on the bottom of the collection cup, and the self-cleaning venturi fitting is ingenious! Thanks a lot for making such an excellent piece of equipment, and I will be sure to email you if I have any problems, which I doubt I will. Also, if you need someone else to reference your product, please let me know, I will be more than willing. Thanks again, Craig Twehues
---
SLF1-200 Lifereef Berlin Sump
Jeff, I've been meaning to send you a note about the SLF1-200 I just received. After setting it up and really admiring it's build, I couldn't help but notice all of the thought that has gone into your designs. The reason to purchase from Lifereef is clear: you've seen every conceivable problem and designed around it! Not only is it thoughtfully designed, but the build quality is what I really admire. I believe that you get what you pay for, and in this case it's true. This is my 3rd Lifereef sump, and they've all been excellent performers. Keep up the good work. Brandon Wilson
---
LF2-300 Wet/Dry, VS2-24 Protein Skimmer
Jeff, Just wanted to let all customers and future customers that your products are the best!!! MY LF2-300 wet/dry and VS2 24 skimmer and LifeReefugium does the job on my 300 gallon FOWLR setup and I have large fish in my tank. Jeff thanks again for answering all of my questions thru out this 1 year process of setting up my system and I know you will be there for me in the future. Some experts say Wet/Dry systems produce high nitrates well with some systems that would be correct but my nitrates have stayed in the <5 range for months so if anyone is thinking about buying a system from you then they should buy and not worry again because the products they have wasted money on in the past is just a memory. By the best system on the market LIFEREEF ROCKS!!!! David Browner vokey60@comcast.net
---
SVS2-24 in-sump Protein Skimmer
Hi Jeff....I've emailed you so many times with questions etc. that I thought I'd take the time to email you and tell you that your skimmer is absolutely awesome!!! (but you knew this already!) I finally got it set up and figured out and the thing works unbelievable already. I'm new to skimming so I haven't gotten it at 100% of its capability yet, this I know but.... It's not even broken in and I notice the quality of the tank water is already better...the slight smell it had is gone and the polyfilter that is generally "dirty" within 12 hours of me placing it in the sump has been fully clean/white for 2 days now!! I'm soooo happy with this skimmer I can't thank you enough for making such good quality products! Jannell (and Michael) Capozzi EQUINOX4@aol.com
---
VS3-48 Protein Skimmer
Hi Jeff, in less than 10 hours the VS3 -48 skimmer starting pulling out dark green and smelly waste. My water is much clearer and I have no bubbles in the sump and the tank. My nitrate level also dropped. It was so easy to set up, your instructions were very clear and you provided all fittings needed. What a wonderfull experience! Because I was so impressed with the quality, craftsmanship and performance of your skimmer, I would like to order the LCR2 Calcium Reactor and the quick-disconnect/shut-off connectors for it. IN MY 10 YEARS IN THE HOBBY I HAVE NEVER BEEN SO QUICKLY SATISFIED WITH A PRODUCT. Thanks so much Angel.
Four days later....................
Hi Jeff, I have to share this with you. Two weeks ago I was having a nitrate problem (30 to 40 ppm) in my 180 reef .I saw some of your products on Reef Central, so I decided to call you regarding my nitrate problem. We spoke and you suggested one of your VS3 skimmers. I purchased the VS3-48, I received it, installed it on Saturday December 13. Every night when I got home from work I checked my nitrate level. After only four days of operation I am happy to report that my nitrate level is at 10 ppm . The results are amazing! What is even more amazing is that it has needed NO adjustments. I can't wait to get the LCR2 cal reactor. I can imagine the results I will get with it. Thanks
---
VS3-30 protein skimmer with Mag12 pump
I ordered a skimmer from you several months ago to replace an ETS 500 downdraft skimmer. To make a long story short the skimmer has saved all the corals in the tank. I am extremely impressed with the crap that's coming out and collecting in the cup. The ETS skimmate was a light green from the fully broken in and adjusted skimmer. The Lifereef skimmate is black.........Unbelievable! I'd never seen black skimmate before!
---
LF2 Trickle Filter and VS2-24 Protein Skimmer
By the way, my 24" Lifereef venturi skimmer is TEN YEARS in operation (purchased in 2003) next month! Not only that but my entire LF2 filter system has been in operation for the past 10 years. Congratulations on a building a great piece of equipment. There are a lot of reefkeepers using Lifereef equipment in the Rochester, NY, area nowadays. Thanks! Sincerely, Gary Majchrzak
---
Jeff, I am very impressed. Your overflow system is every bit what I expected. It was easy to set up and no matter how i try to make it fail, it dose not. I feel very confident with this product and do recommend it to anyone who needs the hang on overflow. I absolutely feel that it was worth every penny. The only thing I regret was not purchasing it earlier. Good job.
---
SVS3-34 In-Sump Protein Skimmer
Jeff, Thanks for putting me in line for the sump and refugium. And, regarding your skimmers, I see no reason someone should ever buy one of those other skimmers unless they are just looking for the latest trend or gadget. I don't follow the crowd though. I did my research, and after finding NOTHING negative about your skimmers and other products (and ENORMOUS amounts of praise for your products) I ordered your skimmer. I view it like buying a hand-made sports car versus a mass produced toy. Yours is the Rolls-Royce or Aston Martin of skimmers in my humble opinion (except your product requires near zero maintenance). Thanks. John
P.S. This is funny to me. Your skimmer cost me about $400 if I remember correctly. I saw a crappy Red Sea Prizm hang on skimmer 'toy' for $360 at a LFS in the Kansas City area. Yours was a BARGAIN for $400. THANKS!John H.
---
LCR1 Calcium Reactor
Jeff: Seems like my life story is the continued purchase of "cheaper" reef equipment followed by selling them for half price on EBay followed by buying a dependable unit from Lifereef. Just got through doing this cycle for my calcium reactor. I purchased a Korallin reactor 1 year ago and finally threw in the towel in January with a continued string of problems and issues I just couldn't take any more. My new Lifereef LCR1 has a better pump, a better way to fill, a better way to get water in and out of the unit, and a better flow rate in the reactor itself. I don't consider any Calcium Reactor in the "leave it and forget it category" but the design from Lifereef is solid and very "case hardened" in my humble opinion. My leaving quote is that "you get every dime" out of any Lifereef constructed product". I've learned my lesson, I just wish it had been sooner. (JJ) jeffrey.l.johnson@intel.com
---
VS3-24 Protein Skimmer
The skimmer is great! The picture on the website doesn't do it a bit of justice. Over the last 7 years I have had 6 or 7 brand name skimmers and don't even want to talk about total cost, and none of them comes even close to the build quality and workmanship!
I started several years ago with a Red Sea Berlin, or I should say "adjustment hell". Perhaps an early edition, a box full of parts, no directions, no pump recommendations. Great for the first time around. Then it was a Sea Clone, took it out of the box, found junk and sent it right back. Next it was a Bak-Pak, easy to use, but over time I wanted more. Next came Titan, looked good, no customer service to speak of, but that's another story, couldn't come close to the Bak-Pak, When an upgrade was needed the Remora Pro came along, at best it was OK. I thought my journey came to the end when I purchased a Precision Marine Hot 1, but over time I found that it had to be adjusted regularly to be efficient. I felt this was the price I would have to pay for quality until the air line became clogged one night and my living room rug soaked up about 5 gallons of water. Add it all up and subtract the fire sales and restocking fees and you will find that skimmers can be very expensive.
I am a big fan of quality craftsmanship, seems like a lost art today. When you add in the expert advice, customer service and quality workmanship the HVS2-24 would be a bargain at twice the price. The skimmer is up and running as advertised and I couldn't be happier, or maybe I am just happy that my skimmer journey has come to an end.
It is a shame that the pictures on the website do not truly show the beauty of your work. You may be Lifereef but I have become a Life-customer. C. Clarke
---
LF1-125 Berlin System with VS3-24 protein skimmer, 4md system pump, Float Switch top-off, LCR1 Calcium Reactor, and LifeReefugium.
Jeff, I'm almost regretting the purchase of a Lifereef system. My wife is so impressed with the quality of your work, she wants me to complete our whole aquarium system with all Lifereef products!! J.Laronde
---
HVS3-24 with MagDrive 9
Jeff, Just a quick note to inform you that I received the Protein Skimmer in Arizona intact. I brought it on the plane with me to Puerto Rico as carry on baggage and it is presently up and running on my tank. Let me add, that it started producing "good" greenish dry foam within twenty minutes. The quality construction of your product is outstanding, but I must admit that your speedy and empathetic customer service is what has decidedly won me over to Lifereef! I look forward to a long and productive relationship. Many thanks. Jose I.
---
Hi Jeff: I purchased one of your slimline pre filter boxes. It has performed beautifully, even several power outages in the middle of the night caused by winter storms have not concerned me enough to get out of bed, because I know as soon as the power returned the pump would operate at 100% again. Thanks. E.J.
---
VS3-24 with 2md Little Giant pump (flanged skimmer)
Jeff, I just yesterday bought your VS3-24 Venturi flanged skimmer. I have heard that the skimmer usually has a 3 to 7 day break in period, but already I am seeing results. Before the Lifereef Skimmer, I had problems with water clarity and quality. I am simply amazed at how great and how fast it has cleaned up my water. My corals and my fish already seem happier... I cant wait to see what it will do when broken in! Already today, not even 24 hrs later, my water is crystal clear! Simply awesome and unbelievable, I am asking myself, why I waited so long to buy the Lifereef Skimmer... Keep up the great quality and Thanks! You have made a new Lifereef customer! -Billy P.Billy
---
SVS3-24 In-Sump Venturi Protein Skimmer
Hi, I just wanted to leave a comment about your SVS3-24. I received my SVS3-24 just about a week ago. When I received my SVS3-24 I was impressed on how well packed it was and also after unpacking it to see how nice and well built the skimmer looked. I've owned other skimmers, Seaclone (modified), Turbo Flotor, Berlin Classic, and a AquaC, prior to getting the SVS3-24 and none came as far to match up to the SVS3-24. I've only had it running for a week and boy was I impressed on how much junk it pulled out of my tank. All the time I was fooled to believe that my water quality was clean, cuz of how little my last skimmer pulled out in a week. I believe that a skimmer is the most important part of a filter system and you should never go cheap when looking for a quality skimmer like the SVS3-24. Take it from me cuz I've wasted away alot of money before I took a look at your website and decided to invest on a quality product such as your SVS3-24. I would like to thank you for making a high quality skimmer like your SVS3-24. And also add! that if I would have to redo my filter system again I would invest on your system. Tom
---
LF2-300 Trickle Filter with a VS2-24 Venturi Protein Skimmer
Although I have not hooked up your system yet I am already impressed. I have to tell you I looked at about 30 trickle filters up close at the Backer show. All of them looked slapped together with little thought. I first saw your filter 5 years ago when I came across your web site and book marked it. At the time I could not afford your system but I promised my next tank would have one.
The time has come and I got my custom tank. I am a diver at the Shedd Aquarium for 8 years and have a lot of friends that are professional aquarist and consider myself an advanced aquarist. When I told my friends I was going with you they were hesitant because they had not heard of your product. I went against what everyone said and bought yours anyway. I am glad I did. And I am sure my friends will agree when they see the unit. From the time I unpacked it I saw what I wanted to see, pride in work and attention to detail. My dream tank will be just that thanks to your filter. V. Kelly
---
I just purchased two of your over-flow units. I want to say they by far they are light-years ahead of the CPR units I just got through removing. I could not get my two CPR over-flow's to stay running without loosing siphon. I had six Rio power heads (three on each over-flow) dedicated to providing back suction but still had air buildup that would eventually cause the over-flow to fail in either running or start-up situations. Your over-flows retain water in the U-Tube forever (tested up to 7 days) and restart every time. After having water on my hardwood floors more than once (when both CPR over-flows failed), I am relieved that I can simply set yours and forget them. Jeff
---
After running this unit for a few days, I am pleasantly surprised at the effluent parameters and the fact that I can run at somewhat of a high output flow, with as little as 15 bubbles a minute of CO2. At this point, I'm not sure that I need the larger unit. The product is top notch. I've used an MKR reactor, and a unit produced by Aqua Medic. The quick disconnects are a great feature, especially after using the MKR ! I am happy with it.
---
LF2 wet/dry, VS2-24 skimmer, Prefilter
A long time ago you saved the lives of my fish with your filter system! I had routinely had to purchase new fish with my old Kludged up system. I finally did the smart thing and got one of your systems, a slightly modified LF2, with the whole nine yards, prefilter, venturi skimmer, ozone, ozone controller and float switch. I am still amazed at the quality and ruggedness of construction, the extra bracing to prevent bowing and the thought that went into its design. Using your filter I had the immense pleasure of watching my fish grow up as opposed to gradually decline, and I had the absolute thrill of noting that my fish looked significantly better than most of the stock at my local aquarium store. I just wanted to say thank you. KK
---
HVS2-24 Hang-On Protein Skimmer
I was reading your web page and wanted to comment about my HVS2-24 Hang-On skimmer. I bought it in '96 for my 120g reef tank and hung it on my Lifereef sump down in the filter room in my basement. My tank is upstairs, my equipment is in the basement and pumped thru the floor. FOR 5 YEARS NOW THIS SKIMMER IS BY FAR THE VERY BEST !! I've operated a Tunze, Red Sea Berlin and ETS and nothing beats the Lifereef! There is 2 inches of thick bubbles as it densely fills the neck with fine bubbles and a rich thick head. Believe me when I tell you this skims so much I added a hose to the cup to a 10 g. bucket! Keep up the great work Jeff..... T. Murphy Amesbury Ma
---
Lifereef VS3-48 using Iwaki MD70 pump
Just received your prefilter from the postoffice. It is very nice and as strongly built as your skimmer. Regarding your skimmer, there is no question about the construction and quality. The mechanic in the aquarium engineering co. told me that your skimmer is the best he has ever seen in Hong Kong. This person is one of the most outstanding guys in aquarium engineering in Hong Kong. He has been in this business for over 10 years and had been invited to organize the aquarium engineering works in various parts of Hong Kong, China and once in Singapore. He install all the plumbing for me to fit your skimmer. The skimmer body is full of fine bubbles to my satisfaction. It works so well that the water in my tank turned clear in a couple of days. Just clean the collection cup and you will notice how well the skimmer works. You will nearly find no bubbles returning to the aquarium. The most important discovery is that you will find no gurgling sound at all as the large volume of water generated by the pump eliminates any room for air in the returning hose. Very very nice. I only depend on your skimmer for filtration without any other means (with the exception of carbon).
---
VS3-60 Venturi Protein Skimmer and LCR1 Calcium Reactor
I just purchased the VS3-60 you shipped to Fish World in Richmond VA to replace a very finicky ETS 600. I want to tell you how pleased I am with the VS3 60. It started pulling out dirty smelly stuff within 24 hours and the water in my heavily stocked (120 inches of fish) fish only 180 has never been so clear. I was running an ETS 600 and a Red Sea Berlin before. I also would like to say I am very happy with my calcium reactor. It is maintaining the calcium level in my 220 gallon reef at 450 without using any additives. Vincent magnovb@msn.com
---
LF2-300 Trickle Filter System, VS2-24 Venturi Skimmer, Float Switch, Filter Cylinders
..............By the way, my filter is working very well. I must admire your outstanding design. The simplicity of setting it up but yet the complexity of the system which includes all the fine detail that a sophisticated filter should has. The protein skimmer is the best that I have encountered. Believe me, I have many different kinds of skimmer. This is by far the most efficient!! Thank you for a wonderful filter. Sincerely, Edmund
---
Lifereef Prefilter/Siphon Box
Jeff, I just wanted to write you to tell you how extremely pleased I am with the Lifereef overflow you sold me. If you may recall, I had a lot of concern about using an external oveflow system. But, just like you said, the Lifereef overflow is truly reliable and self starting should a power failure occur. I've simulated power failures on a dozen different occasions and the overflow has restarted itself every single time. I hope you can use my experience with the Lifereef overflow and contrast it with the CPR overflow for interested customers. Virtually all other mail order places are offering the CPR overflows to customers who don't have them built into the tank. This is a shame as the CPR overflows have a huge design flaw. They trap bubbles in the waterway and need a powerhead to purge the bubbles and restart the overflows. Of course, they make the assumption that the line used to purge the bubbles will never clog with algae (which my CPR did all the time) and that the powerhead will never fail. At any rate, thanks for the good advice and the great service. Ted
---
LF2 Wet/Dry and VS2-24 Protein Skimmer
It's been a long time but I must tell you how very pleased I was to purchase Lifereef products. The wet/dry filter and VS2-24 venturi are still up and running flawlessly after 5yrs I have never had any problems with either of these products and always highly recommend your products to my high-end clients. Anthony's Fish Tank
---
Lifereef Double Prefilter/Siphon Box
Hi Jeff, I ordered the double siphon tube overflow from you recently for a service customer of mine. I had been struggling handling the overflow volume and noise on this 150 reef. Just to let you know it handled the 1300gph easily, not to mention the quality of construction and assembly was really great. I had been trying to achieve the same results with the Amiracle and CPR brands with dismal and frustrating results. Considering my very pleasant and positive experiences with one of your venturi skimmers several years ago on a smaller tank, this current experience should be no surprise to me. I will certainly look towards your products for future needs of both customers and myself. Mike MJH03@health.state.ny.us
---
VS3-72 Venturi Protein Skimmer
Jeff, Just wanted to let you know that the VS3-72 Skimmer you sent me is awesome. I am using it on a 180 reef suppling the skimmer with a quit one and using a Gorman-Rupp 520 as a recirculation to power the venturi. This set up works great. I have consistent foaming and lots of turbulence in the skimmer. I looked at many skimmers and am very happy that I chose yours. Sincerely, Kendall
---
LF2-125 System, VS2-24 Venturi Protein Skimmer
Wow Jeff!, I just received my LF2-125 trickle filter and VS2-24 skimmer and was astonished "once again" on the products quality, craftsmanship, and easy set up. Now that's how a "REAL" skimmer should be built!. I'm convinced and satisfied. My only regret was ordering an outdated (other guys) skimmer. The LF2-125 is equally impressive. I've seen all the mass-produced systems and can't believe the quality incorporated into yours! Again, what can I say. You simply design and build the best products. A word to other hobbyists---Do yourself a favor and buy a Lifereef filter or product first! You will not be disappointed. Tom
---
VS3-72 Venturi Protein Skimmer
I received my VS3-72 from you last week. It's quite a piece of work! The craftsmanship is first rate. I previously had a VS2-48 which was excellent product but the VS3 is a more refined beast. The ability to completely disassemble the skimmer is also a definite up-tick. I installed it on Saturday, using the recirculating configuration, with the inlet fed off the main recirc pump manifold. After a couple of days of run-in it's maintaining a consistent water level and extracting a pretty good scum. Great Product! Tom R.
---
HVS2-24 Hang-On Protein Skimmer
Jeff, I received the protein skimmer you sent me. I've never seen such a finely crafted, and solidly built protein skimmer, very nice design! I'm also very pleased with the way it's functioning. You're service is superb also! Whenever I need to upgrade or replace my existing filters I know who I'm going to order from. Thank you very much. Matt
---
LF2-200 Custom Trickle Filter, VS2-24 Venturi Protein Skimmer, GRI pump.
It has been about 3 months since I started my 180 gallon saltwater fish only tank. I purchased a LF2-200 filter and a VS2-24 protein skimmer which is working great. I also purchased a GRI 520 magnetic drive pump from you. The tank is doing great. I have had two 75 gallon saltwater tanks in the past, one was a fish only tank and the other was a reef tank. Both of these systems were setup with catalog bought wet/dry filters and protein skimmers. The reef tank had a Berlin protein skimmer running. The quality of the filters and the protein skimmers have not compared to the performance of your systems. When I decided to get back into the hobby, I wanted to do things right. I had seen adds for your filter systems in FAMA magazine and other publications before. So I was vaguely familiar with your products. When I first started to consider setting up a tank this big, the one thing I considered to be of key importance was a good filter system. I looked around at various systems and had talked to people. A few people I know had used your wet/dry filters systems in conjunction with other Lifereef products . They spoke highly of the quality of the products and their satisfaction with them. After speaking with you about yours filter systems, I could see why. I was impressed with some of the unique design characteristics of the wet/dry filters. Also, you were very helpful in helping me to choose a system that was appropriate for my needs. I didn't feel pressured to buy just anything. The key to me purchasing your filter system was your experience with the performance and design of other filter systems and protein skimmers. From that experience, you were able to design a quality built filter system and protein skimmer which was different from all the rest. When I received my filter/protein skimmer, I was surprised at how well they were constructed. The filter and protein skimmer seemed nice and strong. I am very pleased that I chose your filter system and protein skimmer. It was a wise investment. Thanks again for everything. Thomas
---
LF2-200 Trickle Filter and VS2-24 Venturi Protein Skimmer
Customer previously used a Red Sea and did a comparison on the E.T.S. 800 Gemini.
I installed a VS2-24 on my 200gal reef tank to show customers what the VS2-24 was capable of. The reef tank previously had a 33" Red sea Berlin installed for nearly 3 years. After a year or so the Red sea stopped producing a consistent foam so I connected an air pump to the venturi. After a short period of time this also was not producing a consistent foam. I just assumed there was not a lot of organics in the system. When the Lifereef VS2-24 was installed I allowed it to run in for a few days. The skimmer started collecting a thick black scum, which nearly filled the collection cup after only a few days. It has also reduced phosphates in the system. In my view this is the most impressive skimmer I have used. For another comparison a friend of mine has an E.T.S 800 Gemini, run with a Little Giant 4MDSC, installed on his 200gal reef tank. We have compared the two over the past few weeks and found no difference in performance between the two. They both produced roughly the same volume of scum. Darin precision.drywall@xtra.co.nz
---