PLEASE read this regarding tumbling, reverse flow, or fluidized types of canisters and why they are not efficient except for specific products.
CHANNELLING MYTHS, MISCONCEPTIONS, and MISINFORMATION
Channeling...... There is no "channeling" in a canister filter and this issue has a huge misunderstanding in the reefing community. "Channeling" is a word that came from the wet/dry filter where water will channel as it flows over the dry filter media and form little rivulets. Ever notice how water channels down your windshield in little streams or rivulets when it's raining? That's because the water is finding the path of least resistance as well as surface tension, and full of microscopic inconsistencies. THIS DOES NOT HAPPEN IN A CANISTER filled with water, even media size and distribution, and no air. A canister filled with a consistent size media with consistent void (gap) size will not channel. The water must pass through the media as well as through the void spaces and provides an even water flow, NO CHANNELLING.
Tumbling/fluidized canister action and why they are not the best and should be reserved for specific filter media..... Forcing water through a conventional canister is how most filter media is supposed to be used. Carbon, nitrate removers, phosphate removers (with the exception of iron-oxide types) ion exchange resins, any granular product is supposed to be used by forcing the water through and around the media. Have you ever seen a fluidized carbon canister in an R/O system? No. Have you ever seen a fluidized ion exchange resin canister in an R/O system? Have you ever seen a fluidized canister in a home drinking water filter system? No. That is because the media does not need tumbling.
When you tumble the media in a fluidized canister the water can only act upon the surface of that media, not good. Most of the surface area in carbon, nitrate removers, etc are on the inside of each particle. If you tumble the media you are not using the inner surface area of the product where the most surface area exists.
The only media that needs fluidization, or movement, or tumbling, are the iron-oxide rust colored phosphate removers AND the bio-pellets though there are bio-pellets that can be used in conventional canisters and even filter bags. And, sand fluidized filters though these are not popular anymore. The reason that the iron-oxide medias need tumbling is because they are not porous and will fuse into solid chunks if not kept in suspension or constant movement. Some hobbyists have mixed phosphate media with carbon media to lessen this with good results.
Lifereef Media Reactor
The most simple and easy to use, fill, empty, media reactor you can get! Only three removable parts are used to gain access to the media for changing. No nuts, gaskets, screws, small parts to lose, no special tools.
The Lifereef Media Reactors can be added to your Lifereef filter system. You can also use these with other sumps with the addition of a custom rack built for your sump, see below. Most Lifereef sumps have an Accessory Rack built in as a stock feature to hold up to three media reactors.
Just add them as needed: one, two, or all three! They are reusable and run off of the main system pump or separate pump depending on sump design. You can fill with carbon, resins, phosphate reducers, nitrate reducers, poly-filter discs, etc. Practically any granular filter media can be used in these reactors.
These are for the use of any filter media where the water simply passes through, which covers everything but some phosphate removers and the bio-plastics. There are some phosphate removers on the market that do not require fluidization AND you can mix phosphate media with carbon and use in a conventional flow-thru reactor. Media such as carbon, nitrate removers, some phosphate removers, resins, practically any granular filter media you can find can be used in these reactors.
Each reactor comes complete with true-union ball valve for easy flow adjustment and easy removal from filter sump. There are no gaskets or screws to remove. All reactors are hooked up to a common reactor manifold with a single input from a separate pump or can tap off your main system pump plumbing. And you can install the 1/2" Neptune/Apex flow meter into any media reactor or bio-reactor!
To remove a media reactor simply turn off water flow using the union ball valve, unscrew union ball valve ring, lift up out of rack! To empty simply remove the safety rod, flexible mesh disc, and foam disc. No nuts, bolts, gaskets, screws, keyholes, o-rings, fine screen mesh or other small breakable parts.
These reactors may also be used in other filter/sump brands with the addition of a CYLINDER RACK (shown below) that will be made to fit your sump.
Features and Specs:
Neptune/Apex Flow Meter easily installed for flow monitoring using your Apex
Slip right into all Lifereef filters and sumps
Custom Rack can be built for other sump makes (see below)
More efficient contact time between media and water than short squatty reactors. More efficient use of media
Holds carbons, resins, phosphate and nitrate reducers, any granular media used for water filtration
Holds approximately 1.3 liter, 5.75 cups, 1360 ml
Directs water through, not around, the media providing the necessary "flow through" and not around as in fluidized reactors. Only phosphate media needs to be fluidized. Carbon, nitrate removers, resins, etc. are best used in a flow-through reactor and not a fluidized reactor.
Water enters top and exits out bottom into sump
Will not break down media as fluidized reactors do
No gaskets, screws, o-rings, or threads to seize up due to particulate contamination
Simple and quick removal and refill, FAST!
True-union ball valve for adjustment, shut-off, and reactor removal
Includes reactor manifold assembly (2 or more media reactors for manifold use)
Re-usable for a lifetime! These have been a Lifereef product for over 27 years!
Includes inlet and outlet foam filter elements and flexible mesh retainer disc
3.5" diameter x 12" long, 1/2" input, bottom water exit, custom sizes can be made too
---
Custom Accessory Rack, built to fit your sump
CUSTOM ACCESSORY RACK TO HOLD THE MEDIA REACTOR AND BIO-REACTOR IN YOUR SUMP! Consolidate your multi-canister brand and multi-pump mess into an organized work of superb filtration!
This is just one example of a custom rack made to fit a sump. Accessory Racks can befabricated to hold as many media reactors and bio-reactors as your sump width allows. The one shown below fits inside an 11 1/2" space. The width is typically 4 3/4" x the inside width of your sump. The Accessory Rack also has probe mounting locations with thumb-screw retention. If space permits more holes will be put in for whatever you may want to use them for. Cylinders and the Bio-Reactor remove individually using single union ball valves and manifold assembly which is INCLUDED in the setup, or, you can grab the entire assembly, pump and all and take to your work area for service!. Can be powered off your system pump or small submersible.
NOTHING ELSE COULD BE AS COMPACT, AS EASY, AND AS ORGANIZED AS THIS!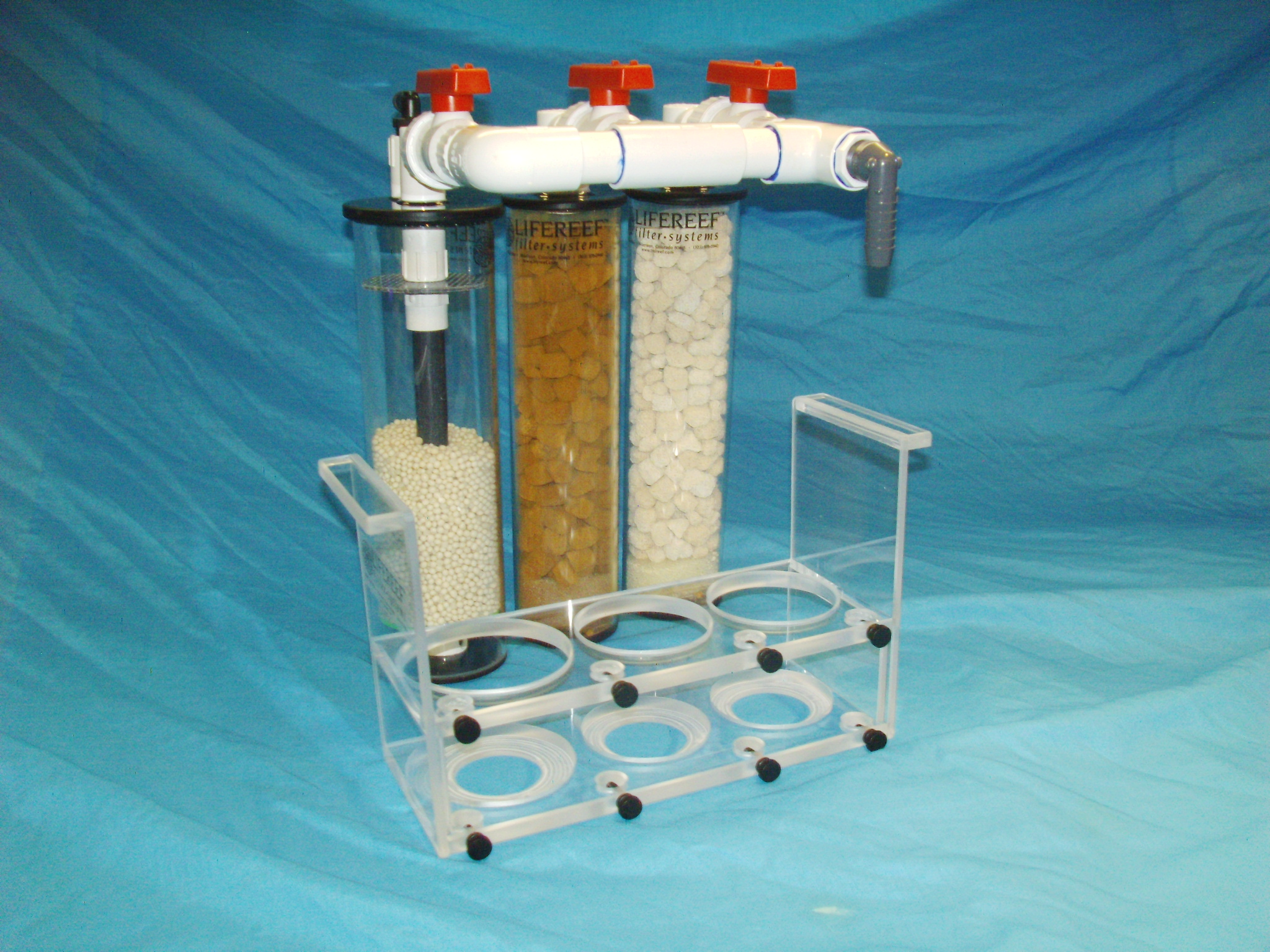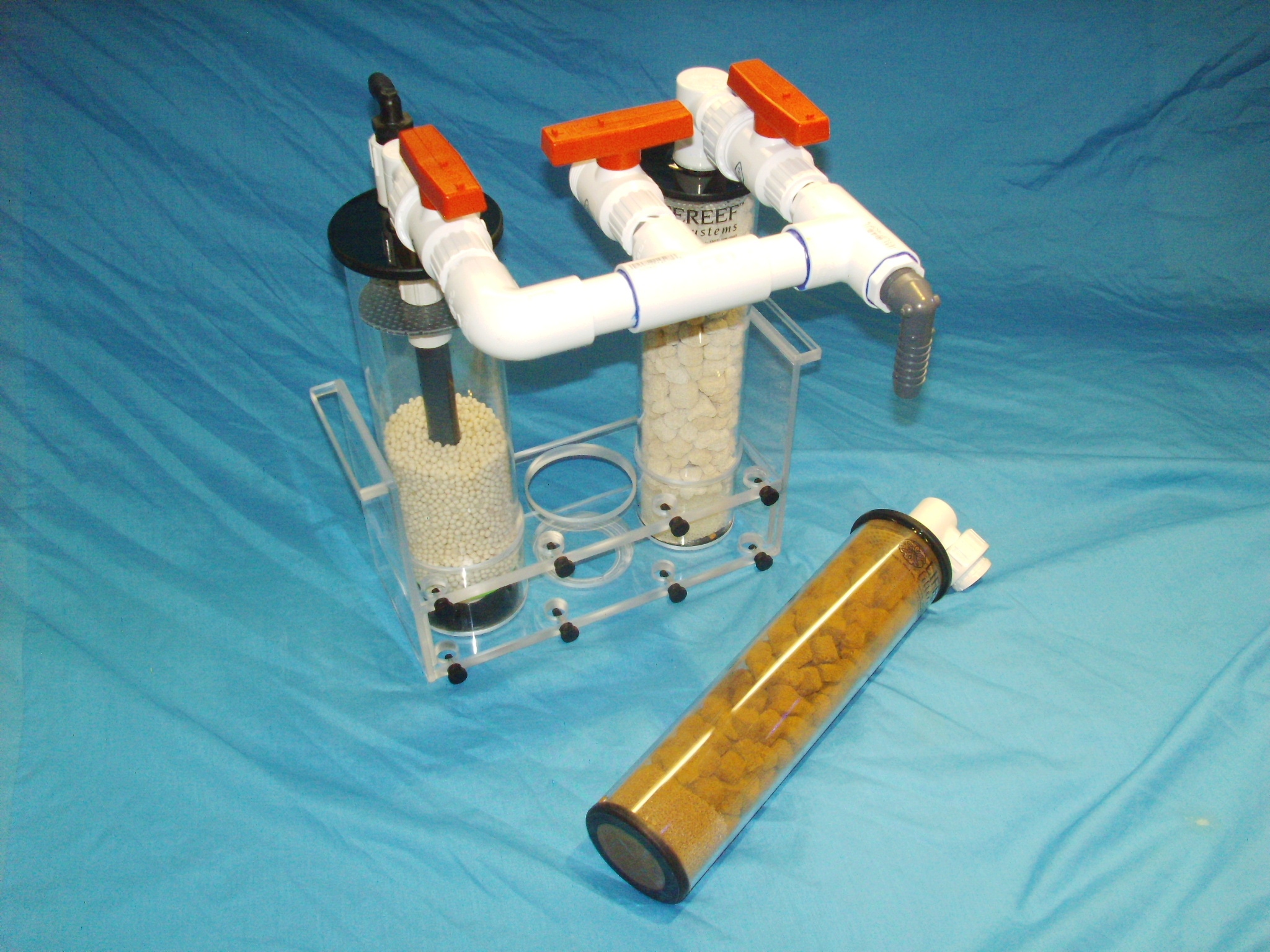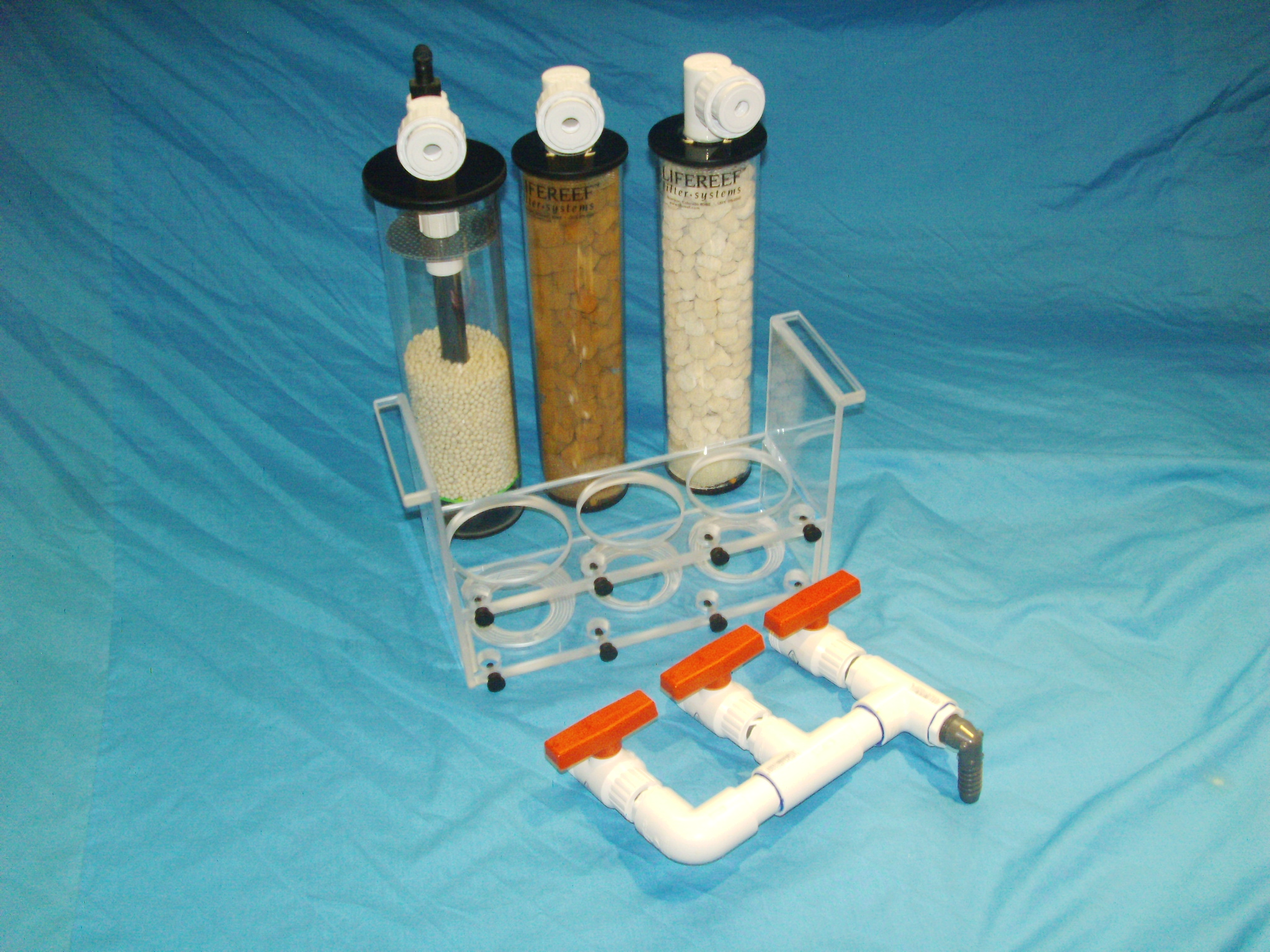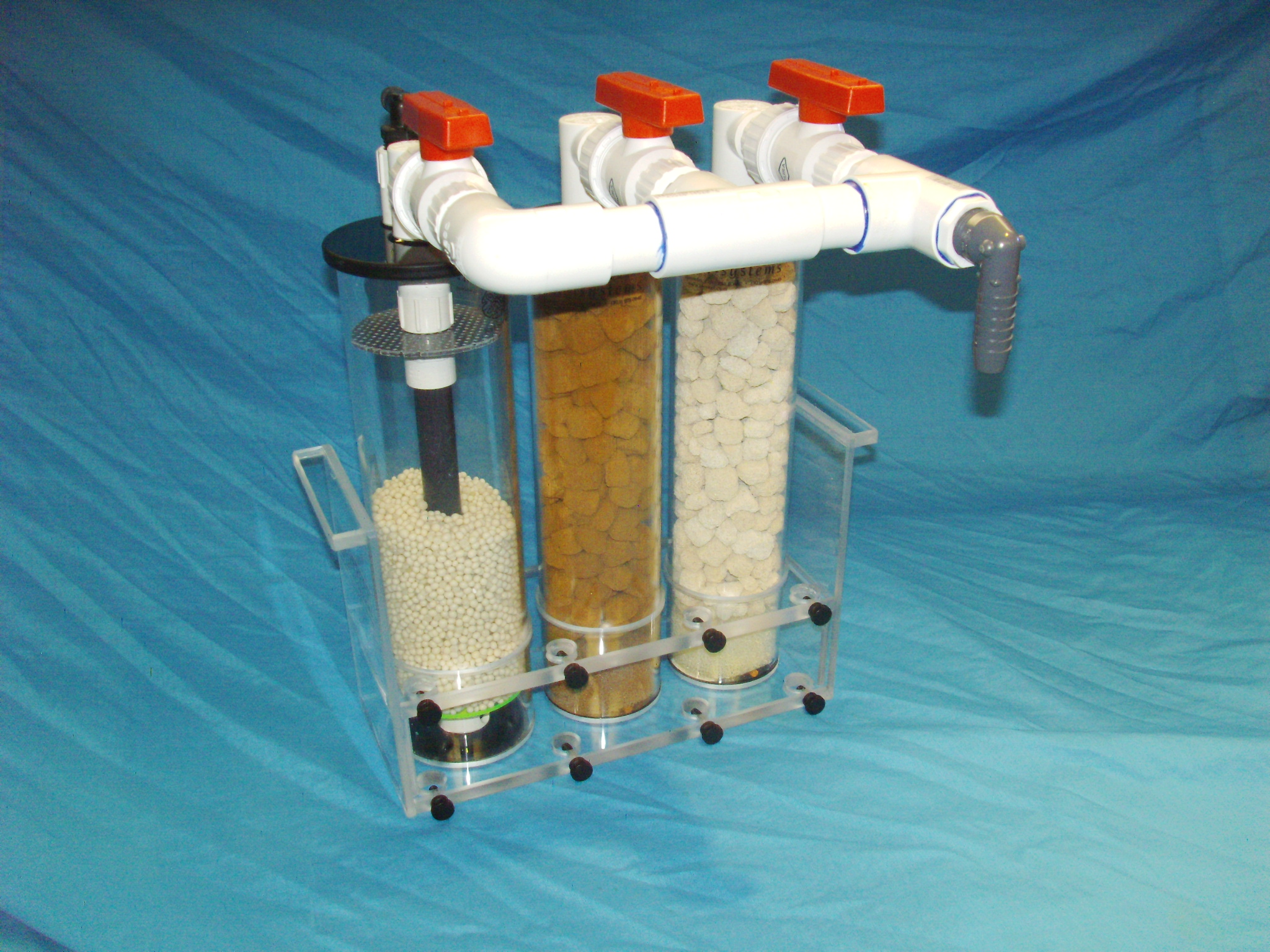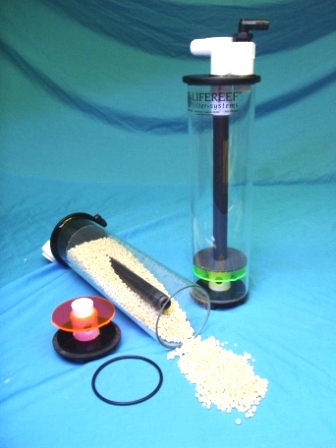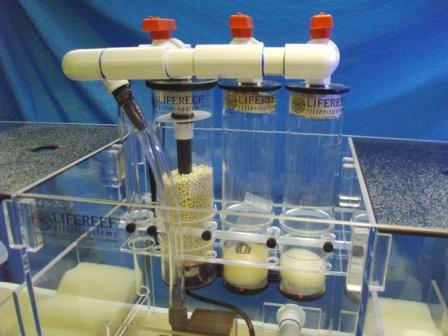 Shown installed in LF1-200/300 sump with Bio-Reactor and two Media Reactors. All three run with a single submersible pump! Independent control of each reactor and each can be removed individually as needed for maintenance. It can't get any simpler folks unless you hire someone to do it for you!
Lifereef Bio-Reactor with reverse-flow fluidization
(for plastic bio-pellet media only)
What a fantastic addition to the Lifereef Filter System options! The Lifereef Bio-Reactor Cylinder will circulate the water as well as suspend the bio-plastic media for even water flow and media distribution.
Available in 4 models:
Drop-In to fit the Lifereef sumps Accessory Rack
Drop-In to fit Custom Accessory Racks made to fit your sump
Hang-On to hang on the inside of your sump (cannot be used outside of your sump)
Drop-In-Stand-Alone to set inside your sump (cannot be used outside of your sump)
Features and Specs:
3 1/2" diameter x 12" long as well as custom lengths.
Will hold up to 1000ml (1 liter) though less is usually required, custom sizes will vary of course.
Water enters top, travels down central pipe, then directed upwards through toroidal distribution disc for even water distribution and efficient use of the bio-plastic media.
Top exit can be plumbed any direction to allow water to be returned to your sump in any location.
Water input can vary, depending on your needs or sump configuration:

1. As shown at below left you can run all three from a MagDrive9.5 (or similar) pump
2. Run independent of other media reactors
3. Run off main system pump manifold (included with all Lifereef Systems)
4. Run independent using a small submersible pump that can be attached directly to the reactor body or just hang off input hose.

Extremely easy content removal: Unscrew bottom plate, empty out contents!
Minimal parts for ease of cleaning: Main Cylinder Body, Bottom Baffle Plate and End-Cap Assembly, Upper Perforated Media Retainer Disc, and an O-Ring.
Less clogging from excess bio-mass, common in types with small fittings and small mesh screens
No foam disc or super-fine screen to clog with excess bio-mass. A removable perforated "free floating" upper disc allows water to flow easily, won't clog like other reactors
Only four parts: Reactor with bonded on in/out pvc fittings for multiple in/out fitting combinations, perforated free-floating upper disc, o-ring, bottom diffuser/closure
Use with any bio-pellet media that cannot pass through the perforated disc
Cannot be used for iron-oxide type filter media
Does your sump media reactor setup look as clean as this, or does your sump have multiple pumps, hoses running all over the place, different makes of media
reactors each requiring different pumps and fittings? Just look at the photo at left. Simple, Clean, Efficient, Visible, and fantastically easy to remove and replace the individual reactors. All Lifereef sumps contain an Accessory Rack that holds these reactors, probe holes for mounting the multitude of electronic probes, and two holes for cords, hoses, whatever the needs may be. For other sumps an Accessory Rack can be custom made to fit inside your sump.
CAUTION: The use of any bio-plastic media filter has risk. Should a bio-reactor clog, then unclog by itself it can crash (KILL) your entire aquarium due to the release of hydrogen sulfide. Many other reactors have already done this due to the small orifices and valves assoicated with their design, and complexity. The Lifereef Bio-Media Reactor is simple in design has less chance of clogging. All in/out fittings are 1/2" size, nothing smaller. If the others don't tell you this, they are not telling you all you need to know for safe use of these products.