4628 S. Ward Way, Morrison, Colorado 80465
Phone: 303-978-0940 and 303-719-0950
E-mail: lifereef@lifereef.com

---

HomeAll Products Price ListOrderingContactCatalog RequestSump/System SCHEDULE

ATO/Reservoirs/ContainersCalcium ReactorsMedia ReactorsCustom ShowcaseTestimonialsGarage SaleWarranty

Berlin System/SumpsNano System/SumpsPrefilter/OverflowsProtein SkimmersRefugium/LifeReefugiumsWet/Dry Trickle Filters

---
LifeReefugiums
Add a LifeReefugium to your sump, trickle filter, or Berlin System to reduce nitrates, promote the growth of copepods, algae, and other microorganisms beneficial to both corals and fish and overall water quality.
These can be installed on most any sump or filter, even INSIDE your current sump. The one pictured is connected to a Lifereef Berlin System. (The LifeReefugium is the unit on the left)
---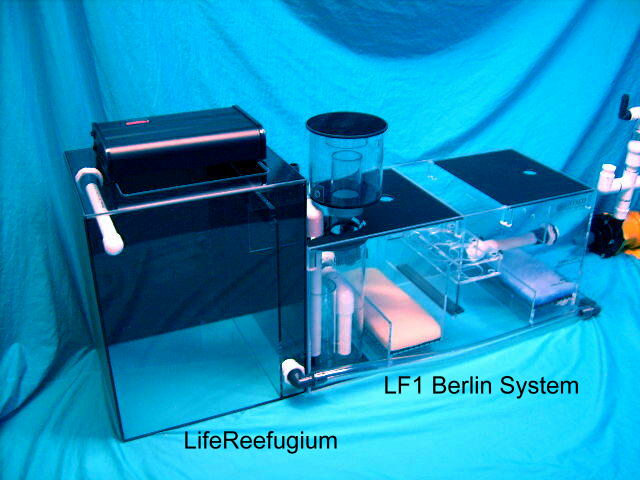 LifeReefugium Features
Perfect display refugium for small fish, coral frags, nice size display compared to the mass-production units with small shallow areas not able to hold much.
Can be installed in-sump or externally (external model shown).
Water supply to the refugium can come from a submersible pump, from your main pump manifold or directly from your aquarium overflow.
Input spraybar distributes water evenly across surface or at any desired angle.
Back and sides are black acrylic to keep light in the refugium and provide nice color contrast with algae and/or fishes
Clear front viewing panel. LifeReefugiums are pefect for small fish display and Mandarins
Refugium height of 18" gives ample volume when sand or mud is placed on bottom as well as a nice display refugium.
Algae retention grid keeps algae in the refugium but lets microorganisms pass through.
Safety overflow to prefvent refugium overflow should algae retention grid become clogged.
Water drops silently down through channel into sump flow.
Full perimeter rim reinforces refugium top to prevent warping.
Ample top cutout for access into refugium.
Top access cutouts along rear for electrical cord or other in/out components.
Safety overflow to prevent refugium overflow should exit bulkhead become clogged.
Lighting units available from numerous manufacturers and lighing types.
NOTE: The photo shows a LifeReefugium connected to a Lifereef LF1 System. The LF1 system components are not included in the prices below. The prices shown below are for a refugium only.
---
Standard Size LifeReefugiums:
12" x 14" x 18" high, 10 gallons
16" x 14" x 18" high, 13 gallons
18" x 14" x 18" high, 15 gallons
20" x 14" x 18" high, 17 gallons
24" x 14" x 18" high, 20 gallons
Custom sizes available, call 303-978-0940 or email lifereef@lifereef.com for quote.
Refugium Lighting..... Due to the numerous options available I will provide you a website to select a lighting unit for the same price, or less if I can. If they do not offer what you want you can purchase lighting from your preferred source.
---
We do not have a "click to order" website. We still like to talk with our customers to make sure you get what you want. You can contact us via email, phone, or request a call by clicking on the contact below.
Call or email for a quick quote! Contact, 303-978-0940 or fax your dimensions to 303-973-2044.
---