4628 S. Ward Way, Morrison, Colorado 80465
Phone: 303-978-0940 and 303-719-0950
E-mail: lifereef@lifereef.com

---

HomeAll Products Price ListOrderingContactCatalog RequestSump/System SCHEDULE

ATO/Reservoirs/ContainersCalcium ReactorsMedia ReactorsCustom ShowcaseTestimonialsGarage SaleWarranty

Berlin System/SumpsNano System/SumpsPrefilter/OverflowsProtein SkimmersRefugium/LifeReefugiumsWet/Dry Trickle Filters

---
CUSTOM SUMPS, REFUGIUMS, RESERVOIRS, CHEMICAL TANKS, BERLIN SYSTEMS, FRAG TANKS, LIGHTING SUPPORTS, YOUR IDEAS/DESIGNS, MOST ANYTHING IS POSSIBLE!
YOUR DREAM SYSTEM OR PROJECT CAN BE A REALITY SETTING UNDER YOUR AQUARIUM OR PROUDLY ON DISPLAY IN YOUR AQUARIUM EQUIPMENT ROOM!
Below are just a sampling of the hundreds of custom sumps, filters, and projects that have been designed and fabricated by Jeff at Lifereef. Perhaps one of these designs will work for your application. If not, let Jeff's 33 years of creative design, machine tool experience, and assembly expertise help you with your project. Those "generic" three-chambered sock/bag things are nice starters but lack a lot of what makes a sump or sump/refugium a joy to use, or a "pain to maintain". You want a real filter sump system, not a plastic box full of stuff..... Let the equipment in your cabinet or fish maintenance room be something to behold, not something to hide!
Sumps or Systems designed to FIT! I will converse via phone with you to design a system to fully utilize the space, or the space you wish to use for your Lifereef project. I will then use his years of experience to design a sump to offer as much versatility as possible, for example: Connection ports for R/O top-off line and a Calcium Reactor, drop-in Filter Cylinders or drop-in media reactors, probe holders, LifeReefugium, whatever you need or specify, and some features are stock.
Remember, "custom" means I can build sumps and sump/refugiums for any application and most any size. And not only sumps: How about a reservoir for top-off water to fit that small space behind your cabinet or inside your cabinet? Or how about a multi-tank reservoir to hold several liquids? Need DIY stuff, Jeff can supply you with tubing. sheet stock, and with the CNC Computer Controlled Router Jeff can fabricate your parts with precision accuracy as he does with many of the Lifereef products and components.
LET YOUR IDEAS AND DREAMS COME TRUE!
Seeing your dream system or project jump from 2-dimensional sketches and discussion into a real 3D project is something to behold!
---
Some of the "SIGNATURE SERIES" builds.... The "Signature Series" are now a stock design using the Midnight Black and Lazer Green acrylics for an eye-popping filter system!. This color combination "comes to life" when you light it with UltraViolet LEDs. Your corals have color, now your filter system and components can have the look too! Unbeleviable in front of your face!
---
Custom Reef Aquarium with filtration and protein skimmer integrated into the rear of the aquarium.
Customer request for an integrated Lifereef Protein Skimmer to be used within an aquarium/sump system. 24 x 24 x 20 footprint which included a custom made mount for the Radion RX30w Pro. Go here masinireef.blogspot.com to read and see more of this fantastic nano tank.....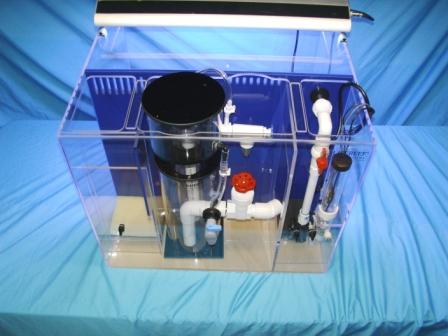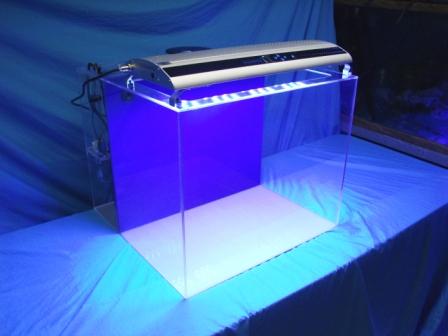 ---
Hobbyists desire to get a large sump into his stand required a four-piece sump array "bolted" together with the interconnecting bulkheads. This design was the customers, with a review of the design to look for any potential problem areas. Overall size is 44 x 21 x 22 high. Water enters into the right sump (a Lifereef VS3-36 skimmer is connected externally to this chamber) then flows into rear center sump to the left, then reverses flow to the right where it enters the front center sump and flows to the left and enters the left sump where a submersbile pump returns the water to the aquarium.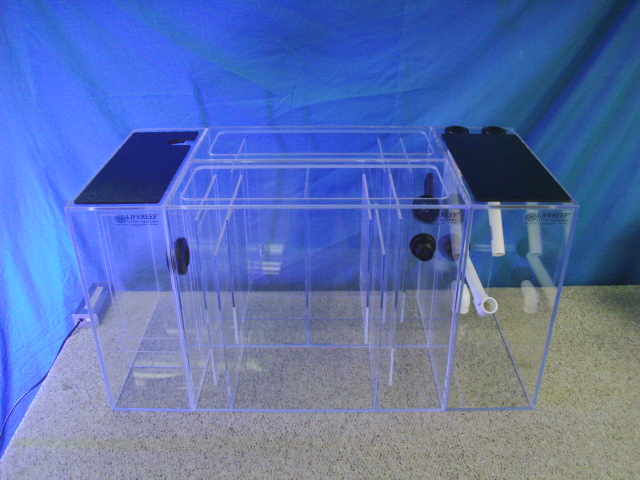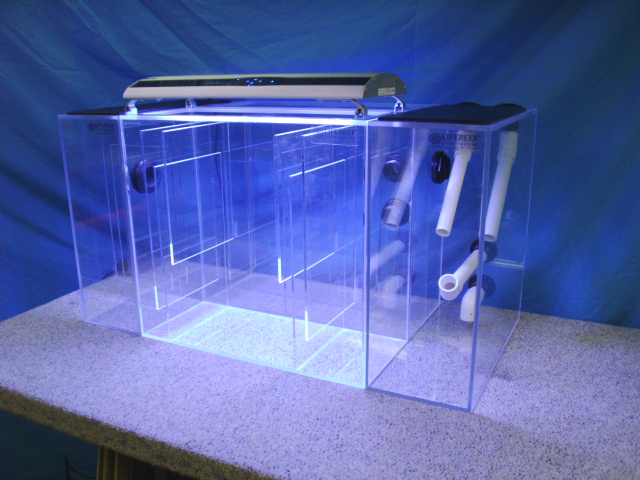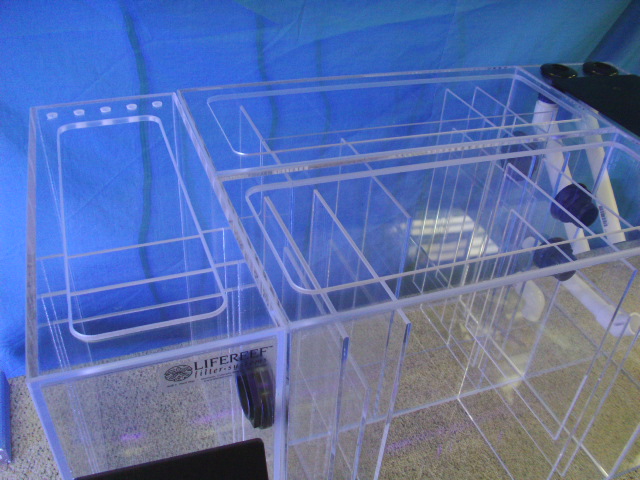 ---
Hobbyists cabinet has center storage area so sump had to be split into two sumps connected via two 1" lines run behind the center area. Left sump has input chamber, mechanical/chemical chamber, and skimmer chamber. Right sump contains the return system pump and the Lifereef Accessory Rack to hold media reactors and a bio-reactor, and probes. As soon as the user gets this installed and provides a photo I'll be posting it here.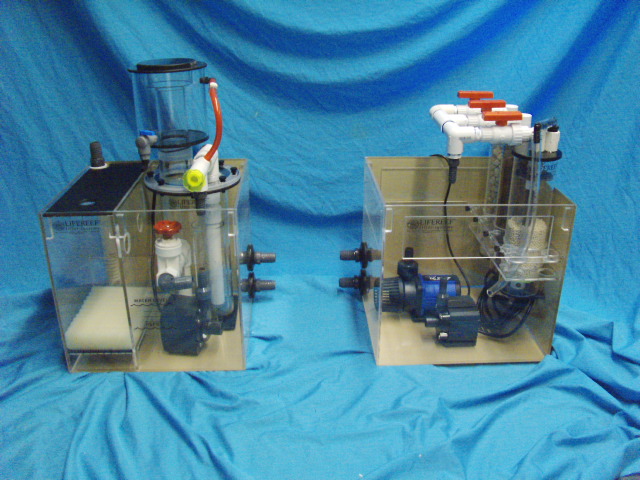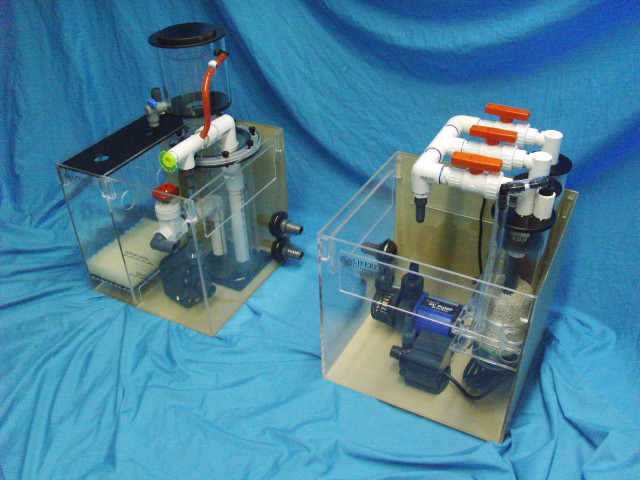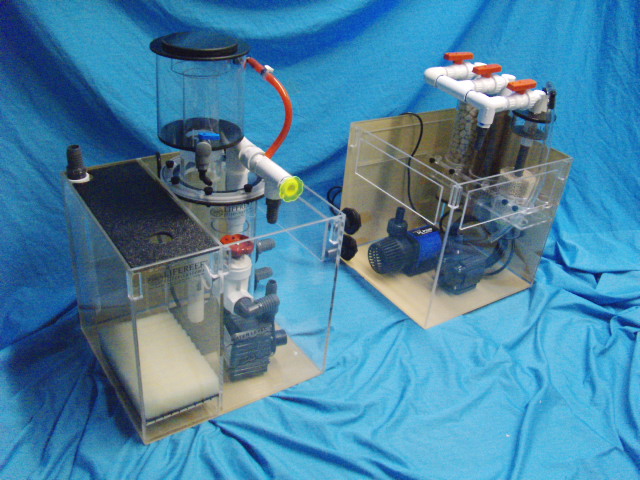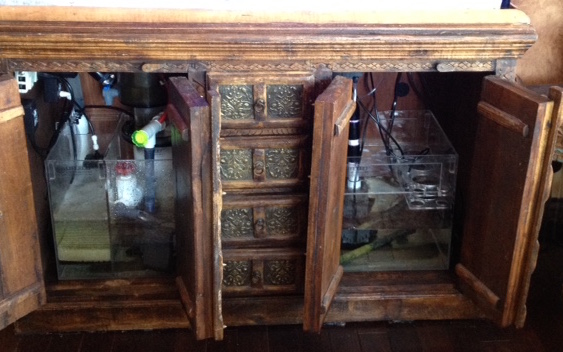 ---
And many many more customs!
A

B

C

D




E




F




G

H

I

J

K




L

M

N

O

P

Q

R

S

T

U

V

W

X

FRAG TANK

Y

Frag tank or fw sump/refugium

Z



ONE LARGE WET/DRY!


Custom Light Mount


You won't find this valve at any hardware store! It is a Custom Short 3-way valve made using two right-angle valves and cutting in half, bonding halves together and adding reinforcing rings. valve is not shown in "installed location" just shown for detail.
5 FOOT TALL X 12" DIAMETER BIO-TOWER with keyhole o-ring sealed flanges for access to removable drip tray and tower disassembly for access. Shipped to the UK.

Past Lifereef Products or, a history and evolution of the Lifereef products.
These may be discontinued but parts/service will be provided where possible.

Circa 1984 "THE ORIGINAL" first generation Lifereef wet/dry trickle filter that used four slide-out trays filled with coral gravel. The sump chambers were also filled with coral gravel and/or carbon, nitrate remover products, etc This was before the advent of numerous plastib bio-ball products. There was also a built-in denitrifier on the far left, this was before the "invention" of more efficient venturi protein skimmers, airstone skimmers were in use at this time and I did make one.
Actually "the original" wet/dry filter was introduced to the U.S. hobbyist by Georg Smit in 1983 and was made from glass. I took the glass design and made it acrylic but also eliminated many of the salt creep issues the original had as well as some other fine features that the original did not have.


---


Below is a circa 1990 Wet/Dry Trickle Filter found and purchased by a lucky hobbyist in December of 2017! Very few changes from this to the current version and same for the protein skimmer!
Circa 1991 Lifereef Wet/Dry Trickle Filter. This filter does not yet have the Accessory Rack for the filter cylinders as shown in the photo at right. Lifereef wet/drys never used the rotating pain-in-the-$## spraybars as others were. Lifereef wet/dry filters utilized (and still do today) a slide-out drip-tray drawer to evenly distribute the water over the bio-balls.
A big plus with the Lifereef wet/dry filters was the "contact time" with the water falling through the bio-media in contact with the bacteria. This was paramount in how efficient any wet/dry is. Many other wet/dry filters were only 14" to 18" tall, the Lifereef is 22" tall.

Circa 1993 Lifereef Wet/Dry filter (less bio-balls) but now having the Accessory Rack for the Lifereef Filter Cylinders. The tower in this photo has been turned 90 degrees clockwise putting the drawer in front. Default position is for the drawer to slide out over the sump so when the drawer is opened to change the pad water does not drip on the floor.

---

This is the current Lifereef Wet/Dry, not much has changed showing how well this filter has stood the test of time. The changes? ABS sump cover instead of acrylic, extra bulkhead for a LifeReefugium and connection fittings for a calcium reactor, auto-top-off line or other accessory, that's it!


Lifereef Automated Denitrifier
This was popular when wet/dry filters were the norm (1984 thru 1994), though many Lifereef wet/dry users did not require this many were sold to hobbyists using inferior wet/dry filters and inefficient protein skimmers.
This denitrifier was called a "batch denitrifier" as it took a batch of water, dosed a teaspoonfull of methanol, and several hours later when the nitrates were reduced to zero, the water was flushed back into the system and the process repeated itself up to six times per day. These fell out of popularity when the Berlin Method of filtration came about in 1994.
---