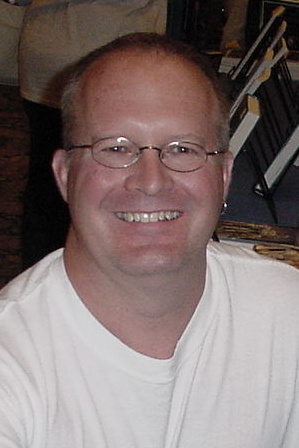 No one has been building Berlin Systems, Sumps, Wet/Drys and Protein Skimmers longer than Jeff Turcheck at Lifereef!
33 years of fantastic Lifereef products, superior design, experience, and great customer service!
No other company has been making Berlin Systems, Wet/Dry filters, reliable Protein Skimmers, Fail-Proof Prefilter Overflows, and numerous other reef filtration products as long as Lifereef.
The Lifereef products are designed to be as simple as possible yet provide all the necessary functionality. This reduces complexity, parts, maintenance requirements, and obsolescence. The more complex the product the more problems encountered and the more costly to repair/replace.
Since 1984 Jeff has been supplying beginners to experienced hobbyists with fantastic products and continues to put quality before quantity, truthfulness before shady advertising, tested designs and not marketing fads or gimmicks, and real expectations instead of unrealistic and misleading claims or promises.
Customer service is always an enjoyable part of the Lifereef experience both before and long after the sale.
Calls and emails are returned within 24 hours and often the same day.

Lifereef, for 32 years providing hobbyists with excellence!
---
OUR COMPETITORS GUARANTEE YOU AN OBSOLETE PRODUCT, WITHIN A YEAR........
Why buy obsolete when you can have a Lifereef product for life, and be assured that we are not going to change it every year and leave you with a useless system or component......
Where our competitors keep coming up with Gen1, Gen2, Gen3, or Ver1, Ver2, or some other name to indicate "progress" the Lifereef products have remained unchanged for 24 years and longer. When something is designed to function for a specific purpose, and it works, you don't make changes. How can you rely on any company that changes their products year after year, and usually not for a better product but for a new marketing gimmick. Go Lifereef for the LIFE or your aquarium. Lifereef products will outlast you in the hobby and can serve another hobbyist wanting to get the best, most reliable, most reputable, and a consistent product. Or, be a "lab rat" for "latest and greatest", we will be here to save you!
---
Sad, but true....... and unfortunately, might be you......
Most of the orders I receive are from those that have tried putting together a sump from company A, a protein skimmer from company B, a pump as recommended by someone on a bulletin board, numerous trips to the hardware store to get more parts, fittings, hose/pipe, more fittings, more pipe, more hose, more time on the bulletin boards, etc. Once up and somewhat running they then spend weeks and months working out more problems such as turbulence, micro-bubbles, noise, too small of a sump, overflowing sumps, overflowing aquariums, refugium problems, then back to the bulletin boards for more "advice" from those wanting to help but cause even more problems.
From the day your boxes arrive with your very own Lifereef System (or any Lifereef product) you will love unpacking the system, admiring it, installing it (all parts are included), filling it with water for a "dry run" test just to satisfy your curiosity and wonder and amazement that something really works as advertised, adding salt, filling the LifeReefugium with sand and algae, maybe a fish or two, adjusting the protein skimmer, and sitting back in wonder that it all really works! No time wasted on bulletin board "advice", no more trips to the hardware store for odd parts, just pure satisfaction!
And if you happen to be a first-time Lifereef customer: Congratulations! You have just saved yourself $$$ and headaches and have joined an exclusive Lifereef community of happy and satisfied customers!
With Lifereef you will NEVER regret your purchase!
---
Proven designs. Proven performance. No obsolescence.
Of course we make some minor changes every decade or so but we will provide parts and support for any discontinued products whenever possible.
---
Another happy Lifereef System reef hobbyist!
Before: A conglomeration of parts and quite a mess!
After: An Lifereef LF1-300S Berlin System with LifeReefugium and Media Reactors, nice, compact, a well engineered layout:
Which setup would you rather maintain? The easier your system is to maintain the more likely you are going to do it, and the healthier and happier your aquarium, corals, fish, inverts, and YOU! Three pumps: Main system/refugium pump, protien skimmer pump, and one pump to run all three media reactors.
---
One hobbyists theme for his SIgnature Series look! An LF1-300S Berlin System! Imagine opening your cabinet doors (or take them off!) and seeing this thing hit your eyes! Hobbyists are now getting into making their filter systems as attractive as their aquariums. At Lifereef our systems have fit this profile for over 20 years, looks, performance, longevity.
Valve handles and green squares (upper left) have been painted but the sump, skimmer, media reactors are all the Lifereef Signature Series. Lighting is an ultraviolet light (black light).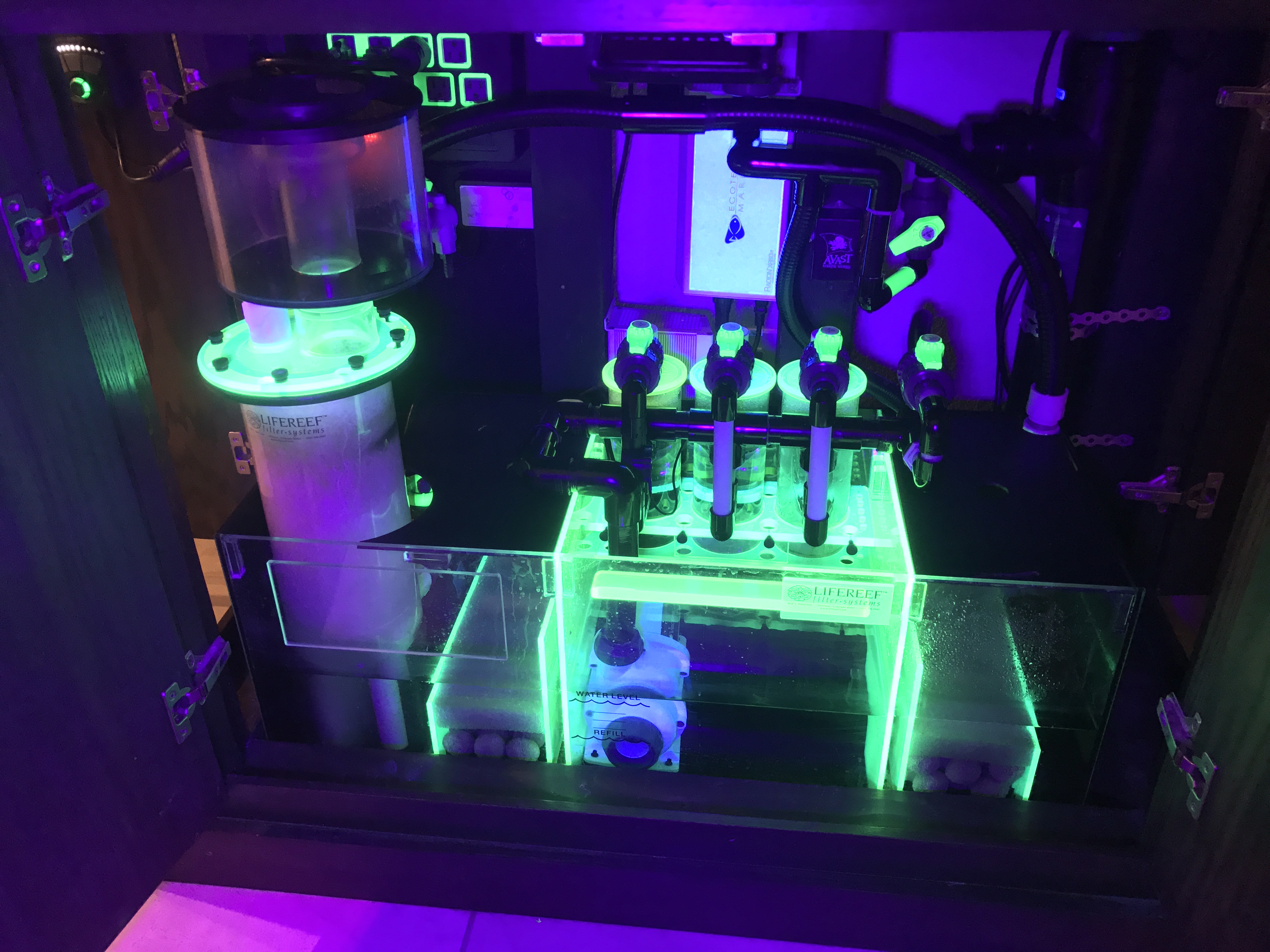 ---
LifeReefugiums with the "halo" effect on the Signature Series systems. Now doing fluorescent blue, fluorescent green, fluorescent orange, fluorescent orange/grey to reflect the Neptune/Apex colors. You want some other color? If it's availalbe in acrylic you can have it!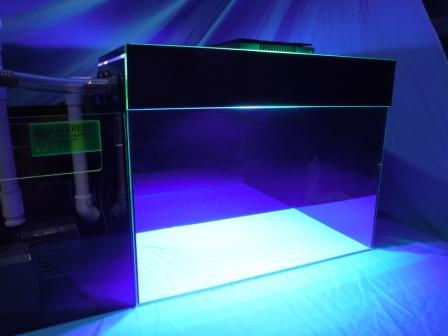 ---
Daily/Weekly Updates.... September 20
---
WHICH ONE ARE YOU
Filter "system" custodian or a reef enthusiast?
Do you get to enjoy being hunkered down inside your stand every day messing with needle-wheel protein skimmers or cleaning out stinky refugiums, or daily changing/cleaning of filter socks? Lifereef hobbyists get to stand upright looking at why they got into this hobby, ENJOYING THEIR FISH AND REEFS!
Become a reef enthusiast, not a filter custodian.....
(or, get yourself some kneepads and enjoy the work)
---
Are you fed up with these companies changing their products year after year after year, never having a good product for the longrun? Lifereef products have proven their function and purpose for over 25 years, as that is about how "old" the majority of the Lifereef products are. My competitors will never have a product they are proud of, only on how proud they are about the money they took from you, year after year after year. Lifereef products for LIFE, others a few years at most.....
---
CHECK OUT THE NEW COLOR COMBO!
Signature Series in Fluorescent Orange and Grey! Matching LifeReefugium, Media Reactors, SVS3-24 Protein Skimmer (fish not included) The Lifereef Calcium Reactors are also available in this and many other color schemes. Your dreams are possible!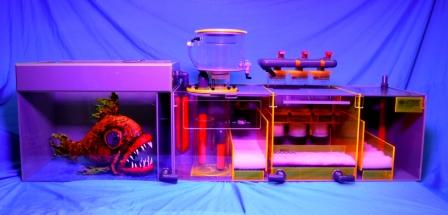 (click on photos for huge detail photo)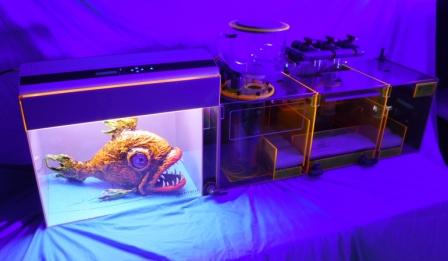 ---
LIFEREEF PRODUCT AVAILABILITY
Berlins, Wet/Dry, Custom Sumps: September
THE REST OF THE LIFEREEF PRODUCTS....
24" Protein Skimmers: a few IN STOCK
30" Protein skimmers: IN STOCK
36" Protein skimmers: IN STOCK
48", 60" and 72" Protein Skimmers: BUILT PER ORDER
Prefilter for RSM aquariums: IN STOCK
Prefilter, Nano: IN STOCK
Prefilter, Standard: IN STOCK
Prefilters, Slimline: IN STOCK
Prefilters, Double: IN STOCK
Prefilters, Double Slim-Line: IN STOCK
Media Reactors: WAITING LIST
Bio-Reactors: WAITING LIST
Calcium Reactors: WAITING LIST, BUILT 3X PER YEAR
---
DID YOU KNOW.......

Lifereef Berlin Systems and LifeReefugiums can be set up and plumbed for use with the Triton Method?

Bio-Pellet reactors and other nitrate reduction methods were rarely needed when everyone made venturi skimmers. Needle-wheel skimmers are less efficient than a true venturi protein skimmer.
We will never make a needle-wheel skimmer because they have numerous design flaws that prevent them from efficiently removing solids and proteins.

Reef Interests All-In-One BioPellets XL can be used in Lifereef Media Reactors/Canisters! No need for specialized fluidized reactors! Much simpler to manage and maintain!
---
Adding some COLOR combinations for complete systems and protein skimmers. Below are some skimmers. Fluorescent Green, Fluorescent Blue, Fluorescent Orange, White, and standard black, or any color available in acrylic!
Click on photo for HUGE photo!
---

Any needle-wheel protein skimmer will cost you money to keep it going, wheel replacements, pump replacements (provided the pump is still available), and lots of maintenance. A Lifereef protein skimmer cost you zero $ to maintain, except when the conventional water pump needs replaced and these are always available anywhere, anytime, any kind, last far longer than any needle-wheel pump. Practically zero maintenance with the skimmer except draining the cup with lots of solids and nasty skimmate!
Why make your hobby (reef-keeping) a chore and a bore. You didn't get into this hobby to play with the filtration components, did you?
---

The new "Signature Series" is a real hit with reefers! The Midnight Black and Fluorescent Lazer Green has been a fantastic color scheme for the Lifereef products! Also doing Fluorescent Orange and Solid Grey to coordinate with the Apex products! No photos yet as none have been here long enough to set up for a photo shoot! Built one week and on a UPS truck the next week!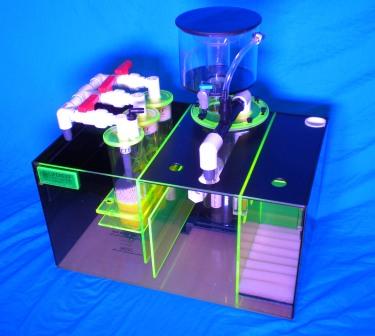 ---
Congratulations to Jerry Lunn (TX), who got the first "Signature Series" Lifereef Filter System!
Follow the project and comments at Reef2Reef
LF1-300S "Signature Series", "signature series" systems and products feature Lazer Green and Midnight Black acrylics.
Your corals fluoresce, now your filter system can too!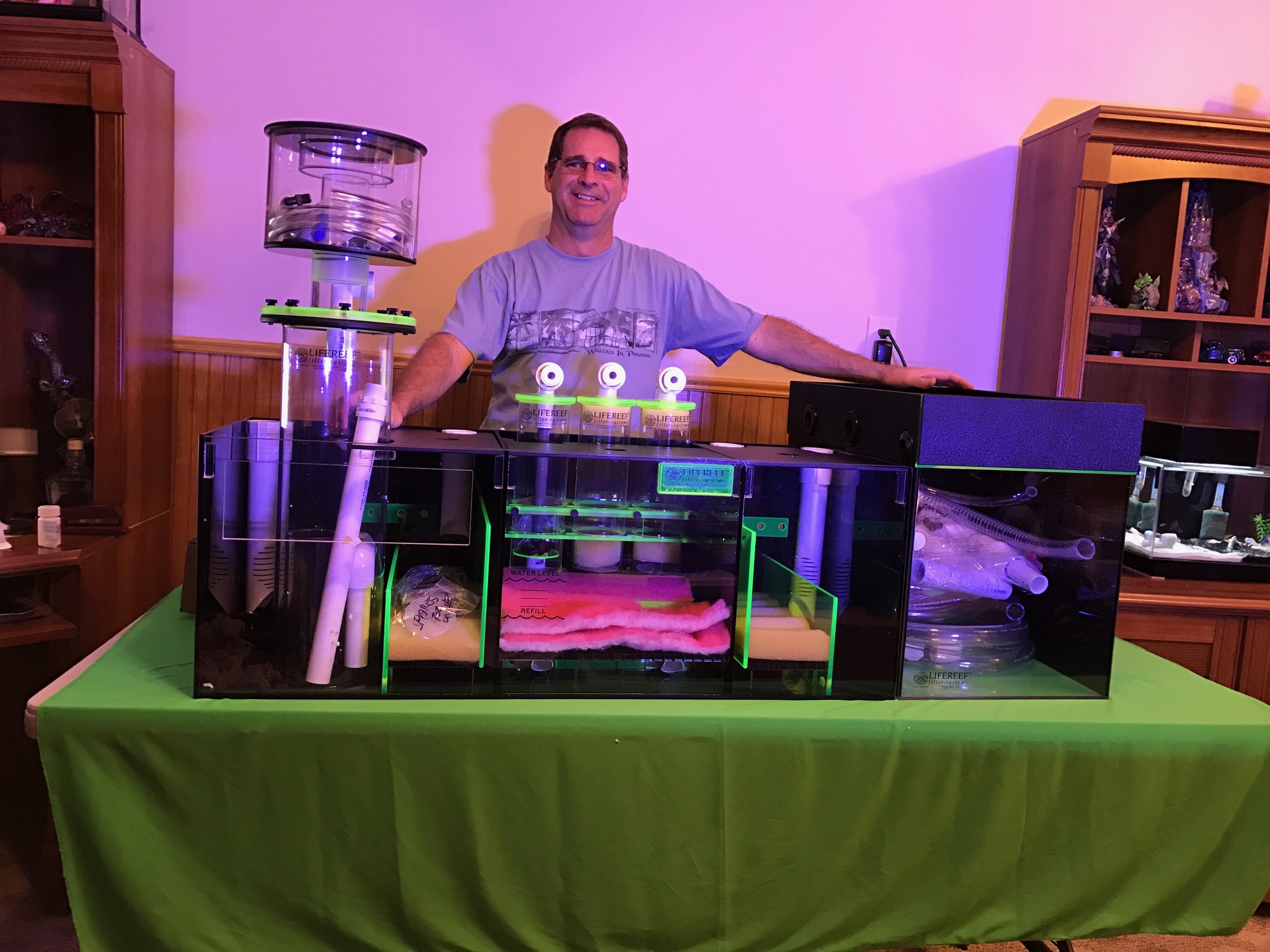 (click on photo for huge detail photo)
---
CUSTOM WORK
Custom work always welcome whether it be your sump design, custom prefilter, refugium, flange/gasket pairs, acrylic reservoir, etc.
Bust your expensive protein skimmer? Email me a photo for a quote for repair. Most skimmer companies rarely carry parts because their skimmers are obsolete every year.
For a quote Email your sketch to lifereef@lifereef.com